If you are in the mood to find out how to catch a criminal, how to solve a heist mystery, or how to get away with murders, we have come up with our picks of the best crime shows on Netflix to satisfy your cravings for thrill and suspense of criminal investigations.
Most of these picks are regarded as the best shows on Netflix so you cannot miss them. Grab your snacks and get ready for the rollercoaster ride of crime, murder, robbery, drug, laundering, greed, and gruesome killings.
Best Crime Shows on US Netflix in January 2022
1. Altered Carbon
Altered Carbon takes place in the twenty-third century when the human mind has been digitized and the soul may be transferred from one body to another.
Takeshi Kovacs, a former elite interplanetary fighter known as an Envoy who has been imprisoned for 250 years, is downloaded into a future that he attempted to prevent.
2. American Vandal
The show is based on the aftermath of an expensive high school prank that left twenty-seven teacher automobiles damaged with phallic imagery.
It is a true-crime comedy that can make you question who the culprit is and how they are going to be identified. The story, concept, and suspense make it one of the best shows on Netflix US.
3. Better Call Saul
James 'Jimmy' McGill's transition from con artist to a reputable lawyer is the subject of the episode. It is a spinoff and prequel to the popular television series 'Breaking Bad.'
Better Call Saul tells the narrative of Jimmy's day-to-day transformation into Saul Godman's persona. Saul is a criminal lawyer who represents drug traffickers.
4. The Blacklist
Raymond "Red" Reddington, a former US Navy commander turned high-profile criminal who eludes arrest for decades, willingly surrenders to the FBI.
How Red was able to elude arrest and why he finally surrendered is the prime focus of the story making it one of the best crime shows on Netflix.
5. Bodyguard
The series follows the lives of a bodyguard who has lately been assigned to defend the Home Secretary. He has the ability to protect his charge as a combat veteran.
The Home Secretary (HS) is an ambitious politician with opposing political ideologies. Due to his moral conflict and professional duty to protect her, he finds himself at odds with her as their relationship progresses.
6. Breaking Bad
Breaking Bad is a drama series set in Albuquerque, New Mexico, between 2008 and 2010.
It follows Walter White, a timid high school chemistry teacher who develops into a vicious participant in the local methamphetamine drug trade after being diagnosed with terminal lung cancer.
7. Collateral
Max, a LA cab driver, is about to retire after a tough day when Vincent, a sharp-suited businessman, offers him $600 to make five stops. That is until Vincent reveals himself to be a ruthless hitman, and each of those stops involves a hit.
Max begins to worry if he'll survive to see the morning as the night progresses, as the couple is pursued by the police and the FBI.
8. Criminal Minds
The program follows a squad of FBI criminal profilers that work for the Behavioral Analysis Unit (BAU), which uses behavioral analysis and profiling to investigate crimes and track down offenders.
If you are a fan of getting to the basics of a criminal's personality and why are committing horrendous crimes, Criminal Minds is the perfect show for you.
9. Dead to Me
It's about a friendship between Jen and Judy that grows. Jen is a newly widowed real estate agent in Laguna Beach, California, who is using counseling, fitness, and other techniques to cope with her grief.
She expresses her sadness via rage and hatred. These emotions and the show's story make it one of the best criminal shows on Netflix so don't miss it.
10. Delhi Crime
If you are looking for an amazing investigation series, Delhi Crimes should be on your must-watch list. It allows the story of a gang rape case in India. The Deputy Commissioner of Police named Vartika Chaturvedi is assigned the case.
He has to find the culprits involved in the death and assault of the female victim and lock them behind the bars. As the story covers one of the most prominent crimes in India, Delhi Crime is one of the best crime shows on Netflix.
11. Designated Survivor
An explosion destroys the Capitol Building on the night of the State of the Union, killing everyone in the line of succession save Secretary of Housing and Urban Development Thomas Kirkman, who had been appointed the designated survivor.
12. Dirty John
Dirty John is a real crime or true-crime narrative about John Meehan's life and exploits. Christopher Goffard, a reporter for the Los Angeles Times, first learned about Meehan when he learned that police in Newport Beach were investigating a suspected murder.
Goffard uncovered a strange network of deception and cruelty while researching making it one of the best crime shows on Netflix.
13. Perfume
Jean-Baptiste Grenouille is one of the best perfumers of 18th-century France, with an extraordinary aptitude for detecting smells.
He becomes fixated on catching an elusive fragrance: the perfume of a young lady. When the remains of 12 young ladies are discovered, his hunt takes a fatal turn, and families hurry to lock up their daughters.
14. Elite
When three working-class adolescents enroll at an elite private school in Spain, they clash with the rich pupils, resulting in a murder.
The conflict between those who have everything and those who have nothing results in a perfect storm that culminates in a murder providing you with an insight into what can go wrong in an institutional setting.
15. Giri/Haji
It's a British-Japanese series about a cop who travels to London in pursuit of his brother, who has been charged with murder.
It follows a series of twists and turns that show corruption and conspiracy among officers as well as the criminals with whom they are covertly linked.
16. Hannibal
Its been seven years since Dr. Hannibal Lecter escaped from custody. He is now wreaking havoc in Europe. Mason Verger remembers him and the man is obsessed with revenge.
As Verger was Dr. Lecter's sixth victim, the attempt of killing him was not successful. He survived the killing attempt but become horribly disfigured.
Verger wants to draw the doctor and use Clarice as bait. Does she know the threat and the events that can go wrong? The horror, suspense, and mystery make it one of the best crime series on Netflix.
17. How To Get Away With Murder
A group of ambitious law students and their genius criminal defense professor become entangled in a bizarre murder plot that threatens to alter their lives forever.
How will they deal with the change is the focus of the story that can hook you to the suspense and thrill of a murder investigation.
18. How To Sell Drugs Online
A geeky teen's attempt to win back his foreign-returned fiancée, who is now seeking new adventures, drives him into the business of selling narcotics on the dark web.
He eventually becomes one of Europe's youngest and largest drug traffickers, the story is an apt reflection of everything that goes into the making of a drug lord.
19. Jessica Jones
Jessica Jones is a super-powered woman who had a brief heroic career until she was forced to kill someone by the evil Kilgrave.
She went on to work as a private investigator after that incident. Jessica must stand up to stop Kilgrave when he reappears.
20. L.A's Finest
After the huge success of Bad Boys, its spin-off L.A's Finest will be available on Netflix to entertain you. The story revolves around two detectives who are working for the Los Angeles Police Department.
The otherwise serious job is full of quirks and fun as the detective figures out how to make the best of the situation and be a better detective. It also goes in our picks for the best detective shows on Netflix.
21. Law School
A famous legal professor and his pupils become embroiled in an extraordinary lawsuit. Yang Jong-Hoon worked as a prosecutor in the past.
He is currently a professor at one of the country's most prominent legal schools. Students dislike him, but Yang Jong-Hoon seems unconcerned about what they think of him.
22. Longmire
Walt Longmire is the sheriff of Absaroka County, Wyoming, who is devoted and unflappable. He is a guy in psychic repair.
Having been widowed for barely a year, he hides his grief behind his brave countenance, unassuming grin, and caustic humor.
23. Lupin
Assane Dopis a professional thief. He immigrated from Senegal to France in an attempt to better life for his child. He steals a diamond necklace worn by Marie Antoinette from the Louvre.
The second season of this successful series will involve another heist. Perfect planning to seamless execution, that's what makes a robbery successful and Assane is the master of the game.
24. Making A Murderer
Steven Avery is a man from Manitowoc County, Wisconsin, who spent 18 years in jail for the erroneous conviction of Penny Beerntsen for sexual assault and attempted murder.
The tale of Brendan Dassey, who was charged with and convicted of being an accomplice to the murder, is linked. The story is focused on what can go wrong during an investigation.
25. Mind Hunter
The series follows FBI agents Holden Ford and Bill Tench, as well as psychologist Wendy Carr, who works at the FBI Academy in Quantico, Virginia, in the Behavioral Science Unit of the Training Division.
If you are interested in the behind-action of an investigation, this show will keep you entertained for months.
26. Narcos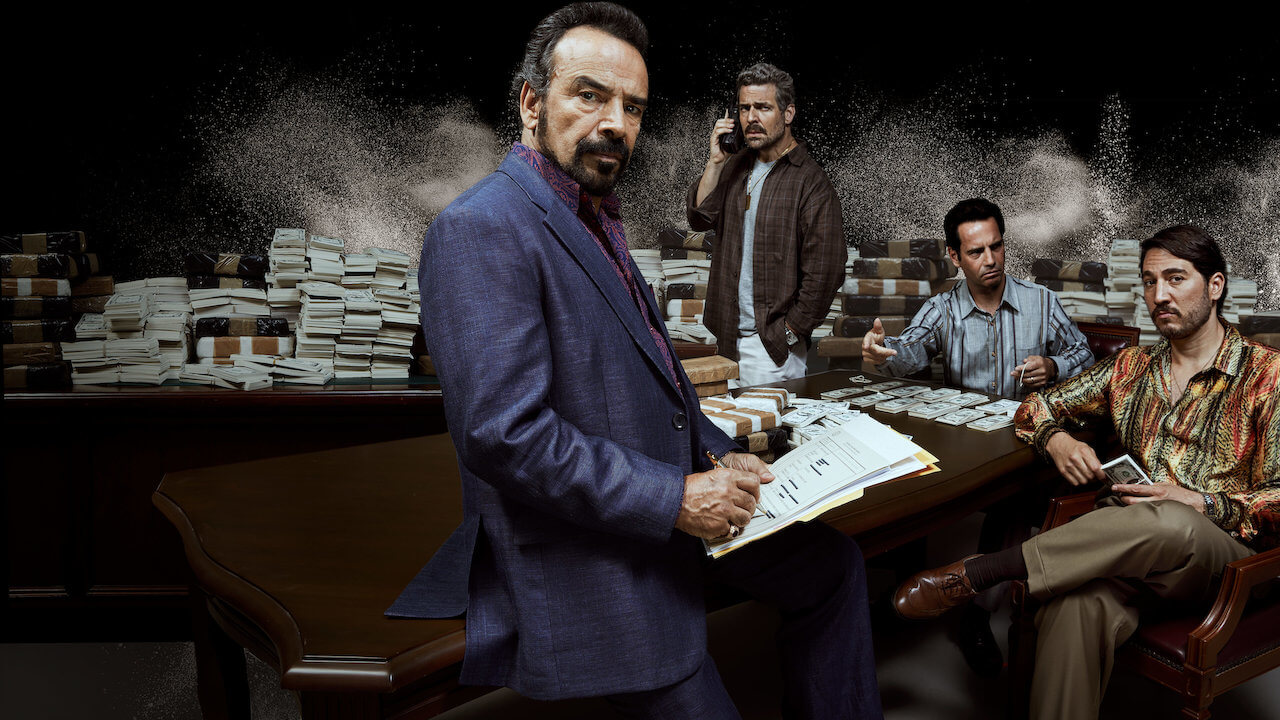 Considered to be one of the best and most popular shows on Netflix, you cannot forget the hype around Narcos. The story is based on the rise and fall of Pablo Escobar.
The Mexican drug lord became a billionaire by manufacturing and selling cocaine. The story is full of greed, action, suspense, thrill, drama, money, and emotion.
27. Ozark
A family is dragged from Chicago to the Missouri Ozarks, where a financial advisor must launder money to placate a drug lord.
The story is a reflection of the greed and risks humans take to get their hands on more and more money because easy money is never enough.
28. Peaky Blinders
Peaky Blinders is an epic drama about an Irish Traveller or Romani criminal family set in Birmingham, England, in 1919, a few months after World War I ended in November 1918.
The plot revolves around the Peaky Blinders gang and Tommy Shelby, their ambitious and crafty boss who will do anything in their power to win.
29. Queen Of The South
Teresa Mendoza is a humble Mexican lady who becomes filthy rich by creating a large drug business. Mendoza is a resident of Culiacán, a neighborhood in Sinaloa, Mexico.
She falls in love with a drug cartel member and attempts to climb above her poor circumstances. The struggles associated with reforming life are the focus of the story making it one of the best crime shows on Netflix.
30. Sacred Games
Sacred Games is a series set in Mumbai that explores the city's complex network of organized crime, corruption, politics, and espionage that lies behind India's economic revival.
It's an epic masterpiece of remarkable depth and force that ties together the lives of the affluent, renowned, miserable, and murderous people.
31. Snabba Cash
When computer entrepreneur Leya begins her business using illegal funds, she learns the hard way that there are no shortcuts to success without paying the price.
The Swedish language remake takes place ten years after the events of the film trilogy in Stockholm.
32. Surviving Escobar
Surviving Escobar spends most of its time after Escobar's death, and via JJ, it depicts the life of a dark knight without his lord.
Now that Escobar's reign of terror has come to an end, his right-hand man finds himself in prison, surrounded by adversaries, and on the wrong side of history.
33. The Irregulars
The Irregulars are the often-neglected characters from the renowned series 'Sherlock Holmes'. They do the groundwork for the famous detective and provide him with essential information related to different cases.
This time they are the focus. London is going through dark times, and there is unknown terror. Will, the team successfully identify and defeat the terror, or will they unleash something more terrible.
They have been invisible, forgotten, but now the responsibility of solving the case is on their shoulders. Will they rise to the opportunity or lose everything they hold dear? Will Sherlock Holmes help them or take credit for their work? We will find out soon.
34. The Mafia Dolls
Brenda, Renata, Olivia, Violeta, and Pamela, five young friends who reside in the imaginary Colombian hamlet of "El Carmen," tell their stories.
They become further entangled in inextricable situations as a result of their association with drug lord Braulio Bermudez throughout the series.
35. The Queen Of Flow
Yeimy Montoya, a modest and gifted 16-year-old girl who loves urban music and aspires to be the finest vocalist in the creative medium, stars in the series.
Her wishes are thwarted, however, as she is caught up in deceit performed by the person she most trusts.
36. The Serpent
If you are a fan of the crime drama series with a hint of thrill and adventure, 'The Serpent' is the perfect show for you. The story revolves around the disappearance of a young couple last seen alive at the apartment of Charles Sobhraj (a gem dealer).
A Dutch diplomat is investigating the case and falling deep into the criminal pieces of evidence's lair. With the horrendous crimes, the investigator put his career at stake to unfold the crimes of Charles.
The show is a thrilling attempt focusing on the investigation's ins and outs and the cat and mouse chase of the criminal and investigator.
37. The Sinner
The main focus of this anthology series is to find out why and how ordinary people commit brutal acts of violence. The story follows the life of a young mother who experiences a fit of rage and starts to commit a violent act.
To her horror, she does not know why she is committing these horrible crimes. As the show is currently streaming on US Netflix only, you have to connect to the American server of NordVPN to enjoy it from anywhere. 
38. Top Boy
Ra'Nell's suffering is chronicled throughout the series as he navigates the perils of living on the crime-ridden summerhouse estate after his mother, Lisa, is committed to a mental institution.
Ra'Nell is quiet and closed-off, despite his reputation on the estate for his erratic behavior after stabbing his violent father.
As the show is currently streaming on US Netflix only, you have to connect to the American server of ExpressVPN to enjoy it from anywhere.
39. When They See Us
'When They See Us,' 2019 miniseries, is based on the narrative of the world-famous miscarriages of justice case known as the Central Park Jogger.
It seeks to raise public awareness about common legal concerns such as the right to a fair trial, confession evidence, and the right to counsel/lawyer making it one of the best crime shows on Netflix.
40. Who Killed Sara
The Mexican secret thriller follows Alex Guzman's examination concerning the killing of his sister in the wake of being wrongly indicted for her death.
On a pleasant August day in 2001, Sara passed on while traveling with her sibling, her boyfriend Rodolfo Lazcano, and the remainder of his wealthy family.
After eighteen years, Alex is released from jail and promises to bring down Sara's actual executioner, to find that everybody is a suspect.
Closing
Though you can watch anything and everything on US Netflix including comedy, thriller, horror shows, suspense, horror movies, cartoon, anime, romance, cooking shows, sci-fi, reality, emotional drama, and documentaries – there is nothing better than a crime show.
Our pick of the crime dramas includes murder mysteries, true crime, serial killer, death row, serial killers focused tv series, interview imprisoned serial killers, crime series, the second season of some of the hits, American crime, American crime story, archival footage, personal story, and police investigation findings.
Some of the stars appearing in these crime series include Alias Grace, Anna Torv, Benedict Cumberbatch, Bill Tench, Billie Piper, Carrie Anne Moss, Cotter Smith, Bill Pullman, David Berkowitz, David Fincher, David Tennant, Ed Kemper, Charles Manson, Jason Bateman, Hannah Gross, Jeany Spark, Jessica Biel, Jim Fitzgerald, Joe Berlinger, John Simm, John Watson, Jonathan Groff, Laura Ricciardi, Mark Duplass, Mike Colter, Moira Demos, Richard Madden, Rachael Taylor, Sam Neill, Sam Worthington, and Viola Davis.
Whether it is drug or law, investigation or revenge, our list of the best crime shows on Netflix will keep you entertained and hooked for months. Happy Streaming!