What shape might aliens take if they ever decided to visit our tiny planet? Would they be cute tiny blue monsters with glowing paws or slimy giants hellbent on destroying the world?
Many of us here prefer alien fiction to other genres. However, as the entertainment giant ruling over the streaming arena, there is no shortage of entertaining content on Netflix, providing you with some of the megahits and must-watch Netflix Canada titles. 
In the last few years, Netflix has improved its extraterrestrial movie game, now including some of the best alien movies of all time.
Netflix's film library is particularly great when it comes to 21st-century indie films like Okja and Safety Not Guaranteed, as well as Netflix originals like Project Power and The Platform.
Whether you're seeking aliens, superheroes, space travel, technological perils, or innovative peeks into the future, it's an exciting moment for speculative fiction to watch the best alien movies on Netflix Canada.
Now without further ado, let's enjoy the best alien movies on Netflix Canada.
30 Best Alien Movies On Netflix Canada in 2022
IMDB Rating: 4.7/10
Director: Liam O'Donnell
Writers: Matthew E. Chausse
Cast: Jonathan Howard, Rhona Mitra, Lindsey Morgan
Runtime: 1h 53m
Rose commands the human spacecraft fleet, which is battling the alien spaceship fleet. The 'Harvesters,' as the aliens are known, are aboard the mothership, the Armada, orbiting the Moon.
Rose, however, stops before she can fire after bursting past enemy lines, and one of her ships is destroyed.
Rose is forced to destroy one of her ships when it gets caught in the crossfire as the Armada prepares to fire on Earth, sacrificing hundreds of her troops in the process, but she succeeds in defeating the Armada.
IMDB Rating: 5.2/10
Director: McG
Writers: Zack Stentz
Cast: Miya Cech,  Alessio Scalzotto,  Annabeth Gish
Runtime: 1h 39m
Summer camp has hardly just begun when aliens abruptly invade the world. Four misfit teenagers are unexpectedly presented with a key that holds power to prevent the invasion at a campsite that was once brimming with people.
Without adults or technologies to assist them, they must come together, face their anxieties, and save the world.
IMDB Rating: 2.5/10
Director: Edward Drake
Writers: Edward Drake
Cast: Bruce Willis, Corey Large, Perrey Reeves
Runtime: 1h 28m
Comic Sin is a new epic sci-fi alien adventure that stars Bruce Willis and Frank Grillo and is set in the year 2524, four hundred years after humanity began colonizing the outer planets.
After a hostile extraterrestrial fleet attacks soldiers on an isolated planet, retired military general James Ford is summoned.
The danger to humanity develops into an unavoidable interplanetary conflict; in a rush to thwart the impending onslaught before it's too late, General Ford partners up with General Eron Ryle and a team of elite warriors.
4. Jiu Jitsu (2020)
IMDB Rating: 2.9/10
Director: Dimitri Logothetis
Writers: Dimitri Logothetis
Cast: Nicolas Cage, Mary Makariou, Rick Yune
Runtime: 1h 42m
The fate of humanity hangs unevenly as soon as Jake Barnes, a renowned Jiu-Jitsu MMA fighter, disagrees with a new facing Brax, an invincible extraterrestrial entity.
Jake is arrested by an army team unprepared to confront the vicious invader who has landed onto the world, injured and struggling from acute amnesia.
Jake is saved by Wylie and the years-old order of Jiu-Jitsu fighters, which will help him restore his memory and power so that they may join together and destroy Brax in the ultimate battle that will decide humanity's fate.
IMDB Rating: 5.8/10
Director: Ben Young
Writers: Spenser Cohen
Cast: Lizzy Caplan, Erica Tremblay, Emma Booth
Runtime: 1h 35m
A family's father has dreams about terrorist strikes. His family is concerned about his well-being. He thinks he's having another nightmare one night during a party.
But his worst fears are becoming a reality. He and his wife are frantically trying to get their children to safety. They begin to discover that the assailants are not all that unlike themselves. 
IMDB Rating: 5.3/10
Director: Liam O'Donnell
Writers: Liam O'Donnell
Cast: Jonny Weston, Frank Grillo, Callan Mulvey
Runtime: 1h 46m
In a parallel story to Skyline, Mark Corley, a Los Angeles police detective, assists his estranged son, Trent, get out of jail just as an extraterrestrial invasion begins.
A blue light draws the whole inhabitants of the city into several spacecraft. Although most humans are murdered or captured one by one, Mark leads a group of remaining humans via subway tunnels to escape.
Following the city's nuclear devastation, the survivors – Mark, Trent, Audrey, Sarge, who is immune to the blue light due to his blindness – flee to the harbour, only to be taken into the alien flagship by a towering alien tanker.
7. Dark Skies (2013)
IMDB Rating: 6.3/10
Director: Scott Stewart 
Writers: Scott Stewart
Cast: Josh Hamilton, Kadan Rockett, L.J. Benet
Runtime: 1h 37m
The Barrett family lives on a quiet suburban street in an undisclosed American city, with mother Lacy, father Daniel, elder son Jesse, and younger son Sammy.
Lacy, a real estate agent, is now responsible for sustaining the family because Daniel is unemployed.
Their two sons have a good bond and converse with each other through walkie-talkies from their mattresses. A series of weird happenings beset the family.
When she turns on the light, she discovers that the room is completely dark. Sammy is discovered wandering away from the house, but he has no recollection of leaving.
Lacy, Daniel, and Jesse all have catatonic episodes and wake up with no memory of what happened to them.
IMDB Rating: 5.1/10
Director: Hiroyuki Seshita
Writers: Gen Urobuchi
Cast: Takahiro Sakurai, Tomokazu Sugita, Daisuke Ono
Runtime: 1h 30m
The last Bilusaludo aboard the Aratrum demanded punishment for Haruo demolishing what they believed was essential to battle Godzilla after the devastation of Mechagodzilla City.
According to the humans, Haruo unveiled Bilusaludo's actual objectives of integrating Earth. The Bilusaludo revolted and closed down the ship's engine compartment, forcing the ship to operate on backup batteries for the next two days.
Haruo learns from Dr. Martin on Earth that Yuko is brain-dead but that the nanometal in her body is keeping her alive.
He also discovers that those treated by the Houtua escaped the nanometal's attempt to absorb them, with Methphies convincing the survivors that their survival was due to divine intervention. 
9. Home (2015)
IMDB Rating: 6.6/10
Director: Tim Johnson
Writers: Tom J. Astle
Cast: Steve Martin, Matt Jones, Jim Parsons
Runtime: 1h 34m
The Boov, a race of aliens, are fleeing the Gorg, their arch-enemy. They arrive on Earth and relocate humans to specific cities to live there.
Oh, one of the Boov is obnoxious yet wants to be liked. When he mistakenly sends a signal out of the planet, the Boov are afraid that the Gorg will follow it to Earth, and they point the finger onto Oh.
He flees, which is something the Boov are skilled at. He meets Tip, a girl who hasn't been evacuated. She wishes to track down her mother, and Oh agrees to assist her if she assists him. They have a unique friendship.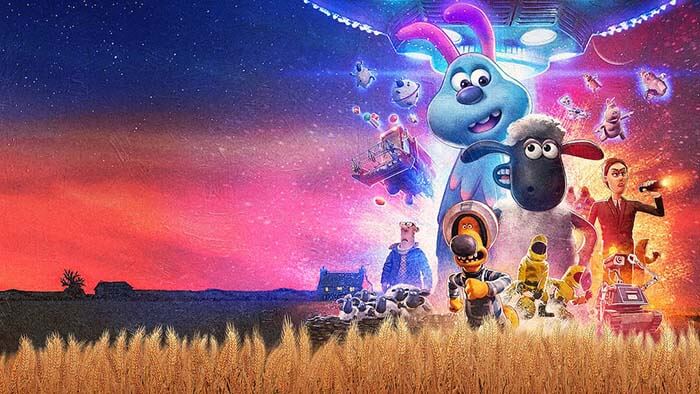 IMDB Rating: 6.8/10
Director: Will Becher 
Writers: Mark Burton
Cast: John Sparkes, Kate Harbour, Justin Fletcher
Runtime: 1h 27m
This movie stands in the top positions of best alien invasion movies on Netflix Canada. After the great rescue effort in Shaun the Sheep Movie, something sinister is happening in the idyllic community of Mossingham (2015).
A mysterious, incredibly quick UFO enters the Earth's atmosphere. It crashes near the lush Mossy Bottom Farm while cheeky Shaun buys pizza for the woolly flock under the nose of the Farmer and Bitzer, the ever-vigilant sheepdog.
Can Shaun and the other lambs provide a hand and safeguard their new extraterrestrial friend from the Ministry of Alien Detection and its ruthless boss, Agent Red?
IMDB Rating: 5.8/10
Director: Hiroyuki Seshita
Writers: Gen Urobuchi
Cast: Kana Hanazawa, Yûki Kaji, Mamoru Miyano
Runtime: 1h 41m
The Aratrum is unable to reach Haruo and the others after their encounter with the original Godzilla during the events of Godzilla: Planet of the Monsters.
If the Aratrum's drones do not discover survivors within 48 hours, the Captain orders the ship to be withdrawn. Haruo Sakaki is revealed to have been saved by a native girl named Miana, who used a mysterious substance to cure his wound.
Before being abducted by Miana's hunting party, Haruo reunites with some of his colleagues after being accosted by who they subsequently learned to be Miana's twin sister Maina.
Read More: How to watch Godzilla vs. Kong on Netflix Canada
IMDB Rating: 5.5/10
Director: Martin Campbell
Writers: Greg Berlanti
Cast: Blake Lively, Mark Strong, Taika Waititi
Runtime: 1h 53m
The Green Lantern Corps has flourished for generations, sworn to uphold cosmic order. Hal Jordan (Ryan Reynolds), the newest recruit, is the first human to join the ranks.
Humans, who have been unable to command the abilities of the ring each member wears, are treated with contempt by the Green Lanterns.
When a new enemy known as Parallax threatens the worldwide balance of power, Jordan, a skilled and arrogant test pilot, maybe the corps' only hope. 
IMDB Rating: 6.2/10
Director: Stephen Chiodo
Writers: Kealan O'Rourke
Cast: Kaliayh Rhambo, Barbara Goodson, Keythe Farley
Runtime: 42m
The Klepts, a colorful alien race, got greedy and pillaged their home planet's resources long ago. Finally, their hue faded, and they embarked on a journey through space, grabbing anything they could.
The Klepts' leader, Supreme Leader Z, plans to plunder all of the "things" on Earth.
Her plan entails constructing a gadget known as "the Gyrotron" on the North Magnetic Pole that will erase Earth's gravity; things on the globe will be propelled into orbit, where the Klepts' spacecraft can gather them. This is among the best alien movies to on Netflix Canada right now.
14. Alien Warfare (2019)
IMDB Rating: 2.6/10
Director: Jeremiah Jones
Writers: Dave Baker, Nathan Zoebl, Ben Bailey
Cast: Clayton Snyder, David B. Meadows, Daniel Washington, Scott C. Roe
Runtime: 1h 28m
When suddenly some scientists disappear while working at a research center, a team of Navy Seals is sent to solve the mystery. After reaching the remote science outpost, the squad encounters an extraterrestrial race ready to fight them.
IMDB Rating: 4.8/10
Director: Lennart Ruff
Writers: Max Hurwitz, Arash Amel
Cast: Sam Worthington, Taylor Schilling, Agyness Deyn, Nathalie Emmanuel
Runtime: 1h 37m
Earth has reached the brink of extinction, and there is destruction everywhere. People are struggling for their lives, running—however, a family with a military background hopes for humans' survival.
They sign up and join an experiment whereby they participate in a scientific investigation. The experiment is being held to discover space, genetic evaluation, and life on Saturn's moon.
The family is determined, but everyone knows what will happen if the experiment fails. So they must remain careful and mindful throughout.
16. Monsters vs Aliens (2009)
IMDB Rating: 6.5/10
Director: Rob Letterman, Conrad Vernon
Writers: Maya Forbes, Wallace Wolodarsky, Rob Letterman
Cast: Reese Witherspoon, Seth Rogen, Hugh Laurie, Will Arnett, Kiefer Sutherland
Runtime: 1h 34m
What was expected to be one of the most beautiful days of her life turns out to be a nightmare when a meteor strikes Susan Murphy on her wedding day.
The incident turns her into a giant, so she leaves everything behind and sets out to join a team of monsters prepared by the government to fight an alien threat. How can you miss such an interesting story on your watchlist of the best alien sci-fi movies on Netflix Canada?
17. The History of Future Folk (2012)
IMDB Rating: 7.2/10
Director: John Mitchell, Jeremy Kipp Walker
Writer: John Mitchell
Cast: Nils d'Aulaire, Dee Snider, Julie Ann Emery, Jay Klaitz
Runtime: 1h 28m
From the planet Hondo, two aliens have come to Earth with a mission: a mission to take over Earth. But the aliens abandon the order of colonizing earth when they run into a strange human invention that they call 'music.'
They then go to a tiny bar in Brooklyn and decide to start the first Hondonian bluegrass duo in the Universe! And they name it Future Folks. 
18. Aerials (2016)
IMDB Rating: 1.5/10
Director: S. A. Zaidi
Writers: Ghanem Ghubash, S.A. Zaidi
Cast: Ana Druzhynina, Mansoor Al feeli, Saga Alyasery, Mohammad Abu Diak
Runtime: 1h 30m
An intermarried couple went to Dubai for entertainment. During their stay, the earth is occupied by outer space aliens. Like others, they were confined to their residences, cut off from the rest of the world.
They are struggling to find the explanation for all such calamities, but they soon end up being encountered by a series of alien attacks.
IMDB Rating: 7.1/10
Director: Yasushi Kawamura, Kei'ichi Sato
Writers: Hiroya Oku, Tsutomu Kuroiwa
Cast: Daisuke Ono, Mao Ichimichi, Tomohiro Kaku, Saori Hayami
Runtime: 1h 35m
A strange phenomenon hits the world when a computer brings back the recently dead to life. Eventually, the resurrected people realize that the purpose of their new life is to fight against an alien force invading Tokyo and Osaka.
20. PK (2014)
IMDB Rating: 8.2/10
Director: Rajkumar Hirani
Writers: Rajkumar Hirani, Abhijat Joshi
Cast: Aamir Khan, Rajinder Sharma Nanu, Anushka Sharma, Sushant Singh Rajput
Runtime: 2h 33m 
An alien gets stranded on Earth after losing his only tool of communication. Wandering through the streets and cities, he tries to understand human nature by asking innocent questions.
No doubt this naive alien's journey on Earth will make you fall in love with the film's concept, so, right away, stream one of the best alien movies on Netflix Canada.
IMDB Rating: 8.1/10
Director: Ömer Faruk Sorak
Writers: Can Yilmaz, Cem Yilmaz
Cast: Cem Yilmaz, Özge Özberk, Ozan Güven, Safak Sezer
Runtime: 2h 7m
After getting abducted by a group of unknown aliens, Arif, a carpet seller from Turkey, finds himself stranded on a strange planet called G.O.R.A. He tries everything and shows immense humanitarian spirit to convince the extraterrestrials to set him free.
At last, the slick young Turk realizes that outsmarting the wicked and corrupt commander of the planet G.O.R.A is his only chance to reunite with his people.
Outwitting the evil commander-in-chief won't be an easy task for Arif, so he must use his abilities wisely. Add G.O.R.A to your watchlist of the best Alien movies on Netflix Canada and enjoy the interesting story of a common Turk guy.  
22. Starship Troopers (1997)
IMDB Rating: 7.3/10
Director: Paul Verhoeven
Writers: Edward Neumeier, Robert A. Heinlein
Cast: Casper Van Dien, Denise Richards, Dina Meyer, Clancy Brown
Runtime: 2h 9m
To end the list of best alien movies on Netflix Canada, let's go through the story of Starship Troopers. From the distant future, a high school kid, Johnny Rico, finishes his graduation and plans to serve his nation by joining the military.
Unaware of the consequences, he discovers that he will have to fight a full-scale battle against alien bugs. These mysterious creatures are becoming a menace to the country, so they must finish them soon.
IMDB Rating: 6.3/10
Director: Mark Dennis, Ben Foster
Writers: Mark Dennis
Cast: Reiley McClendon, Cassidy Gifford, Brianne Howey, Olivia Draguicevich
Runtime: 1h 27m
After discovering that their teacher has gone missing while exploring an underground cave, a group of students sets out to follow their professor. Unfortunately, these youngsters also get trapped in the strange cave.
Desperate to find a way out, the students encounter a shocking revelation. 
IMDB Rating: 6.3/10
Director: Nic Mathieu
Writers: Ian Fried, Nic Mathieu, George Nolfi
Cast: James Badge Dale, Emily Mortimer, Bruce Greenwood, Max Martini
Runtime: 1h 47m
When supernatural beings threaten to wreak havoc on New York City, a team of soldiers is sent to fight the enemy. Soon, the elite special ops unit confronts the mysterious creatures in an epic battle.
Do not miss this amazing film on your watchlist of the best alien movies on Netflix Canada. 
25. Captive State (2019)
IMDB Rating: 6.0/10
Director: Rupert Wyatt
Writers: Rupert Wyatt, Erica Beeney
Cast: John Goodman, Ashton Sanders, Jonathan Majors, Vera Farmiga
Runtime: 1h 49m
If you are looking for the best alien invasion movies on Netflix Canada, don't miss Captive State on your watchlist. After the extraterrestrials take over the world, humans are forced to live under their rule.
Now, ten years later, humans have started a rebellion campaign to get back their freedom. 
26. Brightburn (2019)
IMDB Rating: 6.1/10
Director: David Yarovesky
Writers: Brian Gunn, Mark Gunn
Cast: Elizabeth Banks, David Denman, Jackson A. Dunn, Abraham Clinkscales
Runtime: 1h 30m
A woman who has always dreamt of becoming a mother finds happiness when a mysterious baby boy enters her life. The couple loved the child like their own and decided to raise him. Everything was going smooth for the family until Brandon reached puberty.
He suddenly started to act terribly wrong, which concerned his mother.  Eventually, the family discovers that Brandon is a sinister creature from another world, and his twisted urges can destroy many lives. 
27. Men in Black: International (2019)
IMDB Rating: 5.6/10
Director: F. Gary Gray
Writers: Matt Holloway, Art Marcum, Lowell Cunningham
Cast: Chris Hemsworth, Tessa Thompson, Kumail Nanjiani, Rebecca Ferguson
Runtime: 1h 54m 
When a mysterious force sets out to complete its mischievous plans of destroying the world's peace, agents H and M  devise a plan to save the Earth. They must remain cautious as their enemy is extremely powerful and can disguise as any human on the planet. 
28. Venom (2018)
IMDB Rating: 6.7/10
Director: Ruben Fleischer
Writers: Jeff Pinkner, Scott Rosenberg, Kelly Marcel
Cast: Tom Hardy, Michelle Williams, Riz Ahmed, Woody Harrelson
Runtime: 2h 20m
Eddie Brock, a former reporter, was going through a difficult phase in his career. Major destruction, which broke his life into many pieces, was an interview with the faulted life foundation. However, the future had something special for him.
After six months, he stumbled across another life foundation where he met a symbiotic alien. He acquired its lethal anti-heroic qualities, and along with many other aliens, they occupied the earth.
29. Super 8 (2011)
IMDB Rating: 7.0/10
Director: J.J. Abrams
Writers: J.J. Abrams
Cast: Joel Courtney, Jessica Tuck, Joel McKinnon Miller, Ryan Lee
Runtime: 1h 52m
The film is set in 1970s Ohio, where a group of youngsters come across a tragic train derailment incident while filming a zombie movie. However, they soon find out that the horrifying train crash was no accident. 
30. Edge Of Tomorrow (2014)
IMDB Rating: 7.9/10
Director: Doug Liman
Writers: Christopher McQuarrie, Jez Butterworth
Cast: Tom Cruise, Emily Blunt, Brendan Gleeson, Bill Paxton
Runtime: 1h 53m
After signing up to fight against the invincible aliens, the life of a soldier turns into a nightmare. When no military force is unable to defeat the extraterrestrials, Major William Cage sets on one of the most dangerous missions of his life.
However, due to lack of experience, he dies soon after entering the combat. But, this is not the end for Cage, as the time loop repeatedly makes him mysteriously relive the same day.
Although baffled by the strange phenomenon, he keeps on fighting the brutal enemy over and over again. You might be curious about how things will end for humanity in this seemingly unconquerable war against aliens.
Add this epic film to your watchlist of the best alien sci-fi movies on Netflix Canada to find out the answer. 
Conclusion
Though you can watch anything and everything on Netflix Canada, including comedy, thriller, horror shows, Halloween movies, suspense, horror movies, cartoon, 80s movies on Netflix, action, romance, cooking shows, sci-fi, spy movies on Netflix, reality, emotional drama movies, Marvel shows, and documentaries – its time to enjoy the best alien movies on Netflix Canada.
In the list of best alien movies on Netflix Canada, alien presence has always been a topic of contention, and Hollywood has only fueled our otherworldly dreams.
Whether aliens are viewed as benign or evil, it's always fascinating to see another life form shown on screen. So if you're looking for something unique to watch on Netflix, go no further than these fascinating extraterrestrial films.