These portable streaming top boxes have made life so much easier. You can plug it into any TV around your house or even take them to a friend's house and set it up on theirs. However, did you know that you could change the Netflix region on Apple TV from Canada by not moving even an inch?
You can now be sitting in Canada and be streaming live from Spain, Australia, or even Africa! All you need to do is to learn how to change Netflix region on Apple TV from Canada. We have created the perfect sequential steps for you to follow while you get benefitted from the variety of titles available in each region.
How to Change Netflix Region on Apple TV from Canada
First of all, you need to select a reliable and secure VPN service that has the ability to mask your IP address with utmost protection and also not hinder your streaming session in the form of buffering.
Here is a quick guide on how to change Netflix region on Apple TV:
Install a suitable VPN like ExpressVPN on your Apple TV set-top.
Connect to a server like Japan.
Visit Apple TV settings.
Change your location to a country like Japan in the iTunes Store Location.
Visit Netflix and sign in.
You will now be able to browse through Japanese content from Canada.
How to Change Your Netflix Region on Apple TV iTunes All Generations from Canada
You can look at the guidelines on how to change the region to watch Netflix on Apple TV by following the steps given below according to your device's version.
Change your Netflix Region on Apple TV iTunes (1-3rd Gen) from Canada
Follow these steps to change your Netflix region on Apple TV iTunes (1-3rd Gen) from Canada:
Install a premium VPN service like ExpressVPN.
From the Apple TV Homepage, visit the settings.
Pick iTunes Store from the list.
Navigate to iTunes Location.
Select any region like Japan.
Restart your Apple TV.
Connect to Japan via your VPN and visit Netflix.
You now have access to the titles available on Netflix Japan.
How to Change Netflix Region on Apple TV iTunes (4th & 4th Plus gen) from Canada
Changing your region on this version of the Apple TV is a bit different from the previous one.
First, you need to log out from the device,
Visit the settings menu from the home page.
Visit iTunes Store.
Opt for Apple Id's.
Proceed with the Sign-out option.
Now you will need to follow the steps given below to curate a new iTunes ID in order to learn how to trick Apple TV location.
Change the location to Japan from the bottom of the iTunes menu.
Find a free app and select to create a New Apple ID
Put in a different email address for your new id.
Select None on the payment page and then provide a valid billing address from Canada after confirmation of your account.
Login using your new credentials to Apple TV.
Now, visit Netflix and browse a new range of content.
How to Change Netflix Region on Apple TV in 3 Different ways from Canada
There are more ways how to change your Netflix region on Apple TV with explanatory ways in using a VPN and other features which can deceive the Apple TV's system of any kind of changes.
1. Using a Router with a VPN
Apple TV does not allow the use of VPN at default. Thus, we need to go through some loopholes to pick out our desired region and access the best movies on Netflix Canada.
Some VPNs like NordVPN, Surfshark, and ExpressVPN offer pre-configured routers that are automatically set up for the usage of your desired servers.
Make sure your router is compatible with VPN apps.
Get a premium VPN service like ExpressVPN.
Open your web browser to enter the dashboard of your router.
Enter 192.168.1.1 or 192.168.0.1.
You will be asked to put in your credentials.
Complete the setup process according to your VPN service provider.
Set the region to a Japan-based server.
Now you can access Netflix Japan.
2. Using a Smart DNS or DNS Proxy
DNS stands for Domain Name System, and it is a process that sends DNS requests to the service provider of the country you are located in. This is the way IP addresses can be tracked. When Apple TV sends IP address requests to a different country, you will be able to access the best shows on Netflix Canada which is not available in your country.
Fortunately, Apple Tv has a built-in system to customize your DNS server.
Go to the Main Menu of Apple TV.
Visit Settings and choose Network.
Select Configure DNS and choose to proceed with Manual.
Enter your Smart DNS server's address in the given space.
Click Done to confirm and restart your Apple Tv device.
When you relaunch, you will be able to access Netflix Japan.
3. Setting Up a Virtual Router Hotspot on Your Laptop With a VPN
This setup allows your laptop to set up a Wi-Fi hotspot system for other devices to connect to. You can easily set up the VPN service on your laptop by downloading a premium VPN service.
Top 3 VPNs for Changing Netflix Region on Apple TV from Canada in 2022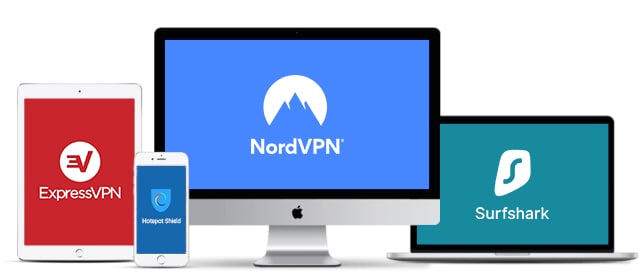 Here are the best VPNs for Netflix that we have tried and tested ourselves for your convenience. After trying out 50 plus VPN services, these 3 were the best amongst stability, speed, security, and budget ratios.
1. ExpressVPN –The Best VPN for Changing Netflix Region on Apple TV from Canada
With a variety of geo-blocked locations available in the form of 3000 VPN servers and 94 countries, ExpressVPN is giving top-notch service.
Its high speed and ability to block any kind of buffering give you a smooth streaming experience. A Kill Switch option and policy on no DNS logging protects your data from being leaked. A 256-bit AES encryption gives you a tight security system while trying to access restricted websites.
If you want to encrypt through your router, Media Streamer is a feature that provides this service with full functionality.
Gives you a download speed of 91.35 Mbps and an upload speed of 87.26 Mbps. It supports the possibility of maximum privacy while keeping your identity safe and allowing you to appear from anywhere on the planet.
Pros & Cons of ExpressVPN:
Pros
Multiple ways to change Apple Tv's region
3000 VPN servers and 94 countries
Available on many devices like Apple TV, Amazon Fire TV, Samsung Smart TV, Xbox, PlayStation, and Nintendo Switch
Support team available to chat 24/7
The policy on no DNS logging gives extra protection from malicious websites
Cons
Slightly more advanced according to tech options
Cost is higher than other services
The Best ExpressVPN Servers to Change Netflix region on Apple TV from Canada
Here are some of the best recommendations from ExpressVPN's website.
Iceland
Estonia
Australia
Germany
United Kingdom
Malaysia
Switzerland
USA
Pricing
There is no doubt that ExpressVPN is on the pricier side. The monthly plan is available for CA$17.62/mo (US$12.95/mo), while the six and 15-month plan is available for CA$13.59/mo (US$9.99/mo) and CA$9.08/mo (US$6.67/mo) respectively. Considering the advanced features, you can be sure that you are getting the value for your money.
2. NordVPN – Uninterrupted Streaming to Enjoy Different Netflix Libraries on Apple TV from Canada
NordVPN is counted as one of the fastest and most secure networks available. It has a high range of users who rely on its ability to give strong encryptions. The facility of double VPN by connecting to two different destinations with the promise of a masked Ip address.
Its policy on no DNS leaks makes it an exceptional candidate to protect your data and provide strong encryptions.
It also comes with the option to connect your router directly to its app and also purchase one which is compatible with NordVPN.
The standard internet speed is 100 Mbps. After connecting to the NordVPN server, we noted the download speed was 89.17 Mbps and the uploading speed was 83.97 Mbps. As the change is minor, the connection provides an enjoyable streaming experience.
NordVPN can help you go beyond and allows you to watch Netflix libraries such as Japan, Korea and German Netflix.
If you want to learn more about NordVPN working with Netflix, then read our guide "NordVPN Netflix."
Pros & Cons of NordVPN:
Pros
High-speeded limits
24/7 live chat available
Compatible with major Streaming Platforms Especially Netflix
Specialty in giving online privacy
Pre-configured routers available for purchase
Cons
Multiple clicks to end your connection on a desktop app
The Best NordVPN Servers for Changing Netflix regions on Apple TV from Canada
Servers in these countries are considered to be the best ones amongst the ones available,
United States
Australia
United Kingdom
Germany
India
France
Pricing
We cannot say that NordVPN is cheap, but we cannot call it expensive either. Laying in the middle of the price range, NordVPN is worth every penny. The monthly package is available for CA$16.32/mo (US$11.99/mo) while the 1-year and 2-year plans are available for CA$6.79/mo (US$4.99/mo) and CA$4.48/mo (US$3.29/mo) .
3. Surfshark – Unlimited Connections for Changing Netflix Region on Apple TV from Canada
Surfshark gives you strong protection against click-baits and virus-filled websites through Clean Web and easily hides your identity by using the Camouflage mode.
The Smart Pay Technology allows you to use this service on various devices in your house and also compensates for a built-in Military-grade encryption code. With A complete barricade against any security compromises, it also works with 10 Gbps servers that are 100% RAM-only.
The average internet speed is 100 megabits per second. The upload speed was 83.24 Mbps and the download speed was 87.99 Mbps after connecting to Surfshark's server, showing that the internet connection is optimal for buffer-free streaming.
Pros & Cons of Surfshark:
Pros
Budget-friendly and cost-effective
Compatible with major Streaming Platforms Especially Netflix
Split tunneling feature
You can pay in Cryptocurrency
White lister
No border mode
Live chat at any time with the support team
High speeds
Cons
Comparatively fewer servers than other competitors
The Best Surfshark Servers to change Netflix region on Apple TV from Canada
These were some of the servers tested as being the fastest on Surfshark.
Australia – Perth
Germany – Frankfurt
Hong Kong
India
Italy – Milan
The United Kingdom – London
The United States – New York
The United Arab Emirates
Pricing
Surfshark is considered one of the most ingenious solutions for answering how to change Netflix region on a limited budget. There are three packages available, including monthly, 6-month, and 24-month at CA$17.62/mo (US$12.95/mo), CA$8.83/mo (US$6.49/mo), and CA$3.39/mo (US$2.49/mo) respectively.
Why Do you Need a VPN to Change Netflix Region on Apple TV from Canada?
Although Netflix is available in almost all the regions around the world, you will still need to learn how to change the Netflix region on Apple TV from Canada. The thing is, Netflix doesn't provide all of its titles in all of its regions. It's restricted due to privacy policies by the content publishers.
In order to access content only available in certain countries like the USA, you will need the protection of a VPN service to change your IP address into one that is approved and not restricted by the internet service provider of the country you are trying to access from.You can also use a free VPN for Netflix on TV in Canada but they are not as secured as the premium VPNs list mentioned above.
Frequently Asked Questions
Is there a free VPN to change the Netflix region on Apple TV from Canada?
There are a number of
free Netflix VPN services
available on the
Apple TV Play Store
, but we assure you that not even one of them will be able to let you play a video without a
proxy error
.
It might let you browse the content library or fiddle with the settings but once it comes to live- streams, you will not be able to watch any show without buffering or speed issues.
Except for that, they are not a secure platform as they may sell off your data to third-party companies and log your information from your device. It's better to be safe than sorry.
How do I get Canadian Netflix on my Apple TV While Travelling?
The
Apple TV device is portable
, and you can go with a number of solutions on
How to change the Netflix Region on Apple TV
.
Use your laptop as a hotspot by installing a VPN on it
Use a Smart DNS or Proxy
Place the VPN app in the router you will be using for the time you are travelling
In Which countries can you watch the Apple TV app??
You can
stream Apple TV in 108 countries worldwide
. Some major regions are as follows:
America
Europe
Asia Pacific
Africa
North America
Middle-East
Closing
Whether is trying to find out how to change Netflix region on iPhone from Canada or how to change the Netflix region on Apple TV from Canada, we have figured out all the possibilities.
Netflix might be restricted due to its policies on providing content in all the countries at once, but we are not bound by anything. With the availability of such existential VPN services, it has become a hassle-free situation for everyone.
Hopefully, we have cured all the problems regarding how to change Netflix region on Apple TV from Canada and this article will help you prevent any future challenges.
David Michaels