Almost everyone is addicted to everything British. Whether it is the accent, vacuum cleaners, or Burberry trenchcoats, we have an intriguing obsession. Our wonder over everything British is not specific to export, it also encompasses entertainment, and that's why we have picked the best British shows on Netflix UK.
Get ready to be surprised because some of these series are titled as the best shows on Netflix UK. So, without any further delay, let's enjoy the British accent and manners.
Best British Shows on Netflix in UK [January 2022]
1. Criminal United Kingdom
The drama is set in a police interrogation room where London detectives play a psychological cat-and-mouse game with their detainees in order to get the information they need to solve their crimes.
Each episode is self-contained, including the police squad as well as one suspect and a solicitor making it one of the best British shows on Netflix to watch in the UK.
2. Black Mirror
A twisted, high-tech universe where humanity's finest achievements and worst inclinations meet is explored in this series.
Black Mirror is a British anthology series that tells stories touching a general sense of uneasiness about the current world. It can be classified as one of the best horror shows on Netflix when you observe the future advancement in the longer run.
The futuristic approach of the show makes it one of the best British shows on Netflix to watch in UK, and you should give it a try.
3. Bodyguard
The series follows the lives of a bodyguard who has lately been assigned to defend the Home Secretary. He has the ability to protect his charge as a combat veteran.
The Home Secretary (HS) is an ambitious politician with opposing political ideologies. However, due to his moral conflict and professional duty to protect her, he is at odds with her as their relationship progresses.
4. The English Game
The focus of this show is on the birth of football and how it swiftly ascended to become the world's most popular sport by bridging social differences.
Upper-class sides, led by Old Etonians, dominated the early years of the FA Cup when football was still in its infancy as an amateur sport so how did it go as the king of all sports?
5. Traitors
Traitors is a show about a young lady who is hired by the US Office of Strategic Services to find a Soviet spy in the Cabinet Office.
The suspense of the story plot and the action keep the streamers hooked to the show making it one of the most impressive British dramas.
6. Collateral
Max, a LA cab driver, is about to retire after a tough day when Vincent, a sharp-suited businessman, offers him $600 to make five stops. That is until Vincent reveals himself to be a ruthless hitman, and each of those stops involves a hit.
Max begins to worry if he'll survive to see the morning as the night progresses, as the police and the FBI pursue the couple.
7. Crashing
Crashing chronicles the lives of six twenty-somethings who work as property guardians at a decommissioned hospital in return for lower rent and a stringent set of rules.
Fresh emotions, cute couples, and positive energies make this show worth your time. If you are looking to enjoy a new concept, this one is for you.
8. Crazyhead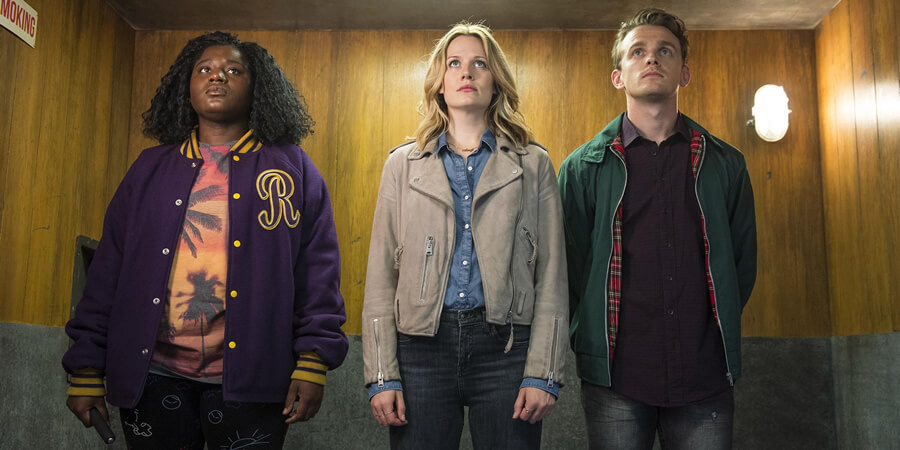 Amy is up against her toughest opponent yet, Raquel. Amy and Raquel's exorcism effort draws Callum's notice as if burying your closest friend wasn't enough for one night.
He employs the soul-sucking Mercy to wipe them out, determined to end their demon-hunting before it starts.
9. Derry Girls
During the Troubles in Derry, Erin, her cousin Orla, their friends Clare and Michelle, and Michelle's English relative James navigate their adolescent years in a Catholic girls' high school.
The series is full of fun, sarcasm, and emotions, making it one of the best British shows to watch on Netflix in the UK.
10. Doctor Foster
Gemma Foster, a doctor, accuses her husband Simon of having an affair throughout the series. Medea, a mistreated widow who murders her children and poisons her husband's new bride, was the inspiration for the plot.
11. Downtown Abbey
The Crawleys and their intrepid crew are getting ready for the most significant event of their lives. A royal visit from the king and queen of England quickly sparks controversy, romance, and intrigue, putting Downton's future in jeopardy.
12. Dracula
From his roots in Eastern Europe to his confrontations with Van Helsing's progeny and beyond, the story chronicles Dracula. "The Count Dracula legend evolves with fresh tales that flesh out the vampire's horrific crimes—and bring his vulnerability into the light," according to Netflix's synopsis.
13. Glow Up
Glow Up is focused on finding new makeup stars that can revolutionize the beauty industry. Ten makeup artists compete in various tasks, with the winner receiving a contract with a well-known makeup artist.
These aren't simply YouTubers who show you how to make the perfect smokey eye. Instead, these are MUAs who work on painting images on people's faces using makeup, creating fake gore, and other similar tasks.
14. Hinterland
DCI Tom Mathias is sent out to investigate a mysterious disappearance on his first day at his new position in Aberystwyth. He finds a bathroom splattered in blood in a peaceful beach cottage, but no trace of the resident owner, Helen Jenkins.
DCI Mathias and DI Mared Rhys travel up into the mountains after learning that Jenkins was previously the manager of a children's home. DCI Mathias discovers that Helen was thrown from the parapet at Devil's Bridge into the river below.
15. Land Girls
The series follows the lives, loves, and highs and lows of four Women's Land Army members working at the Hoxley Estate during WWII.
16. Last Tango in Halifax
Alan Buttershaw and Celia Dawson are both in their seventies and widowed. Yet, when their grandchildren post pictures of them on Facebook, they rediscover feelings for each other that are just as powerful and beautiful today as they were as adolescents.
17. Life in Color with David Attenborough
There is no doubt that nature is mesmerizing. However, one of the best examples of nature being an unmatchable artist is the vibrant color of exotic bids. From neon blues to signal reds – there is no shortage of color.
These colors serve as inspiration for art pieces, but there is much more to them. From the perspective of the animals, David Attenborough wants to know how animals see and react to the color of their species.
The documentary is full of the wonder of the animal kingdom, and that's why it is included in the list of the best British shows to watch on Netflix in the UK.
18. London Spy
The narrative opens with Danny (a boisterous, hedonistic, and passionate young man) falling in love with Alex (asocial, enigmatic, and brilliant). Unfortunately, Alex vanishes just as they realize how wonderful they are for each other.
19. Lovesick
The show is about English friends who share a home in Glasgow's West End and their love life. After being diagnosed with chlamydia, Dylan contacts all of his former sexual partners to notify them of his condition.
The concept, plot, emotion, and confusion can give you amazing entertainment making it one of the best British shows on Netflix to watch in the UK.
20. Marcella
The drama series follows a troubled police investigator who must cope with her own psychological problems, including severe blackouts, in addition to her cruel and difficult work.
She has dissociative identity disorder, which affects her work and personal life but has never been properly investigated.
21. Merlin
This is the narrative of young Merlin, a humble servant in the royal court of Camelot, to young Prince Arthur. They became fast friends, but Merlin has a secret: he's a powerful sorcerer who must keep his magical abilities hidden even from Arthur to survive.
22. Myths & Monsters
This documentary series explores the stories that have captivated audiences for ages while also revealing the interesting and surprising history behind them.
The prevalent myths in different cultures and the monstrous creatures are the focus of the series. It aims to understand the beliefs of different cultures, making it one of the best documentaries on Netflix.
23. Nadiya Bakes
While eating food is simple, preparing it is not. Nadiya Jamir Hussain, who won the sixth season of 'The Great British Bake Off,' teaches everyone how to make great dishes in a short amount of time.
Cooking has become a nuisance for everyone due to stress and a lack of time, and we need to discover shortcuts to make cooking easier and less time-consuming.
As a mother and a modern woman, Nadia understands the difficulties and annoyances that come with cooking. However, she wants everyone to enjoy the process of preparing and eating food.
24. Outlander
Claire Randall, a married war nurse from 1945, is unexpectedly carried back in time to 1743, where she is instantly placed into an alien world where her life is threatened in Outlander.
The mystery related to the cause of time travel and dire circumstance makes this show an interesting watch, so do give it a try.
25. Peaky Blinders
Peaky Blinders is an epic drama about an Irish Traveller or Romani criminal family set in Birmingham, England, in 1919, a few months after World War I ended in November 1918.
The plot revolves around the Peaky Blinders gang and Tommy Shelby, their ambitious and crafty boss who will do anything in their power to win.
It is one of the best crime shows on Netflix, and you dare not miss it and losing out on unmatchable entertainment.
26. Ripper Street
A new drama set in London's East End in 1889, following the killings of Jack the Ripper. The infamous H Division, the police precinct in charge of maintaining order in the Whitechapel neighborhood.
The police are in a chaotic condition, attempting to maintain order following a difficult period for London that has been well documented.
27. Secrets of Great British Castles
The show is a British history documentary that focuses on the history of different castles and historic buildings. Each building has a story and character, and they are the focus of the show.
Knowing the history and appreciating the stories behind these historical buildings can bring you closer to your past and enjoy your forefathers' efforts. Dive into the posh and remarkable structure with the 'Secrets of Great British Castles.
28. Sex Education
Sex Education revolves around Otis, who is more sexually educated than any of his school peers. Later, Meave, the school's most beautiful outcast, convinces him to start his sex therapy business to earn cash.
However, Otis experiences his sexual awakening while Maeve is insecure about her true feelings for someone.
The way the series addresses different sexual experiences and relationships makes it one of the best comedy shows on Netflix.
29. Sherlock
Initially written by Sir Arthur Conan Doyle, it is a dream for mystery and crime investigation lovers. The story revolves around a much more brilliant legend than anyone; however, he was as defenseless against human imperfections as we are.
Before long, this character turns into the focal point, and we appreciated the extraordinary psyche of Sherlock Holmes on our screens. Sherlock is an investigator with an IQ that can cause you to feel like a dolt. However, his one genuine affection is to address the tacky complex cases and brag about them.
Looking for another experience in each scene – Sherlock Holmes can make you fall head over heels in love for his mind, character, unintentional sarcasm, and exciting secrets.
30. The Crown
Do you want to learn more about the Royal Family? First, you must see the Netflix series "The Crown," which begins with the early years of the Queen and Prince Philip's romance.
The series is based on the play "the Audience" by Peter Morgan. As the title implies, it chronicles many events in Queen Elizabeth II's life from 1947 until her reign in the twenty-first century. It offers a fresh perspective on notable women's lives and legacies.
31. The End of the F***ing World
The show revolves around James, a 17-year-old who feels he is a psychopath, and Alyssa, an enraged classmate who views James as a way to escape her chaotic family life.
It is a cute story of a teenage couple who try to make their unusual relationship word despite everyday difficulties. The series is fun and easy to enjoy making it one of the best British shows to watch on Netflix in the UK.
32. The Frankenstein Chronicles
Inspector John Marlott, a river police officer, discovers a corpse made out of the body parts of eight missing children and sets out to find out who is to blame.
33. The Great British Baking Show
What could be better than a slice of cake? Knowing how to create a cake and enjoying it for the rest of your life is a wonderful thing to have.
It is regarded as one of the most relaxing shows to watch. With the judges' and candidates' calm demeanors, you're in for a pleasant surprise. When it comes to the concept, it is considered one of the best cooking shows on Netflix.
34. The Inbetweeners
During their senior year of high school, four friends and their shenanigans are chronicled in this series. Will McKenzie, the group's fourth member, met them when he transferred into their school, Rudge Park Comprehensive, for the sixth form since his newly divorced mother could no longer afford his private school tuition.
35. The Irregulars
The Irregulars are the often-neglected characters from the renowned series 'Sherlock Holmes.' They do the groundwork for the famous detective and provide him with essential information related to different cases.
This time they are the focus. London is going through dark times, and there is unknown terror. Will, the team, successfully identify and defeat the terror, or will they unleash something more terrible.
They have been invisible, forgotten, but now the responsibility of solving the case is on their shoulders. Will they rise to the opportunity or lose everything they hold dear? Will Sherlock Holmes help them or take credit for their work? We will find out soon.
36. The IT Crowd
The IT Crowd revolves around different characters, such as a super-smart coder, useless at practical problems, and a relationship manager, who doesn't know anything about computers. The IT department resided in a messy basement of a corporate building, full of illiterate people about computers.
37. The One
The show's idea is a combination of relationship drama and a futuristic murder investigation. It's a program that's both a romance drama and a murder mystery set in a futuristic world that's not all that different from our own. Your love can be identified through DNA in the future, but making that decision is difficult.
38. The Serpent
If you are a fan of the crime drama series with a hint of thrill and adventure, 'The Serpent' is the perfect show for you. The story revolves around the disappearance of a young couple last seen alive at the apartment of Charles Sobhraj (a gem dealer).
A Dutch diplomat is investigating the case and falling deep into the criminal pieces of evidence's lair. With the horrendous crimes, the investigator put his career at stake to unfold the crimes of Charles.
The show is a thrilling attempt focusing on the investigation's ins and outs and the cat and mouse chase of the criminal and investigator.
39. W1A
The series follows Ian Fletcher, who was previously the Head of the Olympic Deliverance Commission and appointed as the BBC's Head of Values.
The series follows the staff as they deal with the day-to-day happenings at the company, making it one of the best British shows on Netflix in UK.
40. Zero Chill
The 'Zero Chill' trailer is centered around twin siblings; one is all about ice hockey while the other decides on figure skating. Their life appears to be quite typical till they need to move to a new location so the brother can seek his career in sports.
However, the change is a sign of a fresh start, which accompanies change issues, disdain, unforgiving words, and negative feelings towards each other. The series focuses on the unique and essential connection between the brother and the sister.
The excursion is unpredictable, and the climate is unforgiving with high feelings. Yet, you can't preclude love and regard among siblings, and this bond is too solid to even think about breaking. It is a passionate piece that will make you miss your family, and this is why it is added to the list of the best British shows on Netflix to watch in the UK.
Closing
Though you can watch anything and everything on Netflix UK, including comedy, thriller, horror shows, suspense, horror movies, cartoon, anime, romance, cooking shows, sci-fi, reality, emotional drama, and documentaries – you cannot resist these British shows.
With our list of the best British shows on Netflix to watch in the UK, you can fill your British accent for months. So grab some snacks, Happy Streaming!