Netflix has no shortage of amazing content, but mermaid movies in the list of must-watch Netflix titles bring an oomph factor to your streaming experience.
Mermaids have been a popular topic in movies for years. There's just something about their ethereal beauty and mysterious nature that captures our imaginations. If you're looking for some good mermaid movies to watch on Netflix, we've got you covered!
In this article, we'll list down some of the best mermaid movies on Netflix right now. So grab some popcorn and get ready to be swept away by the magic of the sea!
1. Lu over the Wall (2017)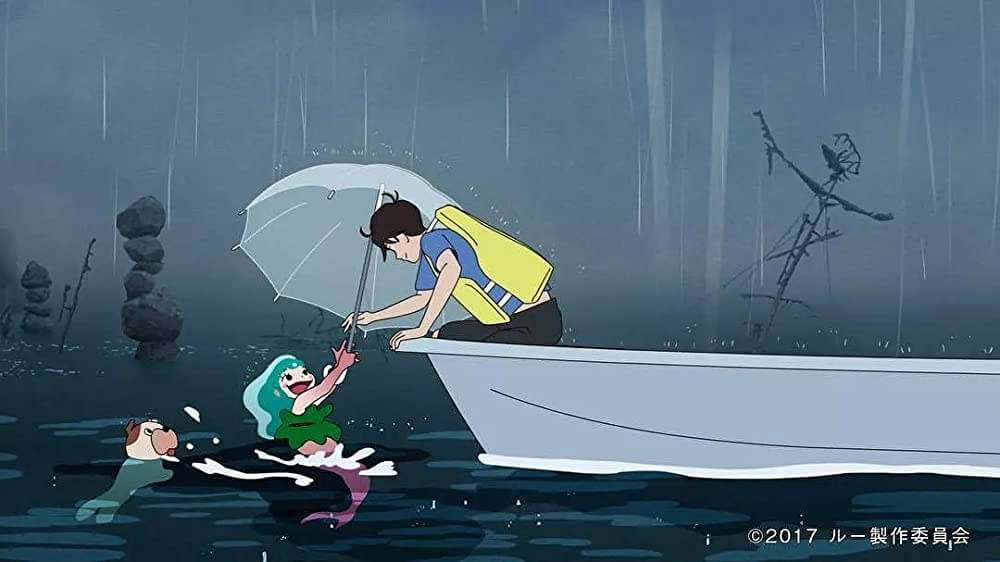 Writer: Reiko Yoshida, Masaaki Yuasa
Director: Masaaki Yuasa
Cast: Kanon Tani, Shōta Shimoda, Shinichi Shinohara, Akira Emoto, Soma Saito, Minako Kotobuki
IMDB Rating: 6.8/10
Lu over the Wall (2017) is a Japanese animated film about a teenage boy who befriends a mermaid. Kai is a teenage boy who lives with his father and grandfather in a small town by the sea. He is withdrawn and doesn't have many friends.
He is part of a band formed by his friends Kunio and Yuho called "SEIRÈN." During a visit to the Mermaid, Island Kai comes across a mermaid girl called Lu.
They soon befriend, and Kai introduces Lu to his bandmates. It is revealed that music changes Lu's fin to legs, and her singing makes people dance which brings their band into the limelight.
But as is with people's fear of anything new, people are wary of mermaids and a curse that they might bring. The story follows how the events unfold to bring change and peace in Kai and Lu's lives and shift their elders' beliefs.
2. The Shape of Water (2017)
Writer: Guillermo del Toro, Vanessa Taylor
Director: Guillermo del Toro
Cast: Sally Hawkins, Michael Shannon, Richard Jenkins, Doug Jones, Michael Stuhlbarg, Octavia Spencer
IMDB Rating: 7.3/10
The Shape of Water is an American romantic drama film. Set in Baltimore during the height of the Cold War era in 1963.
It tells the story of a mute cleaner at a high-security government laboratory who discovers an aquatic humanoid being experimented on with no regard for its emotional or physical well-being.
She forms a close bond with one of the creatures, and when it is threatened, she races against time to save it making it one of the best mermaid movies on Netflix.
3. Barbie Dolphin Magic (2017)
Writer: Jennifer Skelly
Director: Conrad Helten
Cast: Erica Lindbeck, Shannon Chan-Kent, Kazumi Evans, Claire Corlett, Ciana Swales, Adrian Petriw, Maryke Hendrikse, Paul Dobson, Garry Chalk
IMDB Rating: 5.6/10
Barbie Dolphin Magic is the 36th movie in the Barbie Film Series. Barbie and her sisters are visiting Ken at Marine Biology Institute, where he is interning.
During their vacation, they encounter rare dolphins and their mermaid friend in danger from the institute's director, who has captured one of the dolphins named Emerald and is secretly trying to poach it.
Barbie, her sisters, and Ken help them foil the evil director's plan and rescue Emerald, along with making sure that they are never in danger again.
4. The Mermaid (2016)
Writer: Stephen Chow, Kelvin Lee, Ho Miu-kei, Lu Zhengyu, Fung Chih-chiang, Ivy Kong, Chan Hing-ka, Tsang Kan-cheung
Director: Stephen Chow
Cast: Deng Chao, Lin Yun, Show Lo, Zhang Yuqi
IMDB Rating: 6.2/10
The Mermaid Shan and her people are forced to live on a shipwreck due to a coastal project making their previous living areas uninhabitable and killing many merpeople and marine life.
But they have had enough, so they send Shan disguised as a human to kill Xuan, the business tycoon owning the project, and the person responsible for their misery. Unexpectedly though, Shan and Xuan fall in love making the matter complicated.
Their love has made them a target of Xuan's evil business partner and angered the merpeople. Shan and Xuan must navigate the impending perils and, in the process, make the lives of merpeople better.
5. Barbie in a Mermaid Tale (2010)
Writer: Elise Allen
Director: Adam L. Wood
Cast: Kelly Sheridan, Kathleen Barr, Tabitha St. Germain, Nicole Oliver, Emma Pierson, Ciara Janson, Nakia Burrise, Maryke Hendrikse, Garry Chalk
IMDB Rating: 6.4/10
"Barbie in A Mermaid Tale is the seventeenth movie in the Barbie Fim Series. The movie follows Barbie as Merliah, a professional surfer who accidentally finds out she is a half mermaid from her mother's side.
She learns that her mother was the Queen who has been missing for years, and Merliah's aunt Eris now rules Oceana as a tyrant. Merliah is approached by a pink dolphin who implores Merliah to claim her throne and free Oceana from the rule of Eris.
After a magical message from her mother, Merliah agrees to visit Oceana to free it from Eris, find her mother, and in-process free Merliah from her mermaid heritage.
6. Aquamarine (2006)
Writer: John Quaintance, Jessica Bendinger
Director: Elizabeth Allen
Cast: Emma Roberts, Joanna "JoJo" Levesque, Sara Paxton
IMDB Rating: 5.4/10
An upbeat and cheery mermaid named Aquamarine washes up at the beach town of Baybridge after a storm. She has run away from home to escape an arranged marriage and intends to prove to her father that true love exists.
Claire and Haily are best friends living in Baybridge, but their time together is coming short as Haily's mom, a marine biologist, is moving to Australia along with Haily.
The two friends discover Aquamarine in a pool and decide to help her make the lifeguard Raymond fall in love with her in exchange for Aquamarine helping Haily not move to Australia by granting her a wish. The movie then follows the trio in their hilarious attempts to woo Raymond and thwart their rivals.
7. Lady in the Water (2006)
Writer: M. Night Shyamalan
Director: M. Night Shyamalan
Cast: Paul Giamatti, Bryce Dallas Howard, Bob Balaban, Jeffrey Wright, Sarita Choudhury, Freddy Rodriguez, Bill Irwin, Jared Harris
IMDB Rating: 5.5/10
In this movie, a building superintendent named Cleveland Heep rescues a young woman named Story from the pool of his building he maintains.
He learns that she is a Narf who has come to the surface to find Writer, a vessel destined to write a book that would eventually save humanity. Cleveland learns more about Story when he mentions her species to a tenant who explains the legend of the Narf to him.
Story has to return home but is wounded and needs help from other fabled beings. Heep soon realizes that he and other tenants are part of the legend and need to figure out how to help Story get home while stopping evil creatures determined to harm her.
8. Barbie Mermaidia (2005)
Writer: Elise Allen, Diane Duane
Director: Walter P. Martishius and William Lau
Cast: Kelly Sheridan, Lee Tockar, Christopher Gaze, Kathleen Barr, Chiara Zanni, Andrea Libman, Brittney Wilson, Pam Hyatt, Tabitha St. Germain, Venus Terzo, Blu Mankuma, Alessandro Juliani
IMDB Rating: 6.3/10
Barbie Mermaidia is the seventh movie in the Barbie Film Series and a sequel to Barbie Fairytopia. Elina is happy but still astonished that she has wings. She is happily flying around when she gets to know that her Merman friend Prince Nalu has been kidnapped.
The evil Laverna had her minions kidnap him to get to a special berry that would make Laverna immune to any kind of magic, making her indestructible.
Elina and an apprehensive Nori work together to rescue the prince and thwart Laverna by overcoming many challenges and making personal sacrifices.
9. The Little Mermaid (1989)
Writer: Ron Clements, John Musker
Director: Ron Clements, John Musker
Cast: Jodi Benson, Christopher Daniel Barnes, Pat Carroll, Kenneth Mars, Samuel E. Wright, Jason Marin, Buddy Hackett
IMDB Rating: 7.6/10
The Little Mermaid is a 1989 American animated musical fantasy film produced by Walt Disney Feature Animation. It was the 31st film in the Walt Disney Animated Classics series and is based upon Hans Christian Andersen's story of the same name.
The movie tells the story of Ariel, a mermaid who dreams of becoming human after falling in love with Prince Eric after saving him from drowning. She makes a deal with Ursula, an evil sea witch, to trade her tail for legs by giving up her voice as collateral.
Ariel has three days to get "the kiss of love" from Prince Eric to become a human permanently, or she will be Ursula's slave forever. Ursula, however, has plans of her own to sabotage Ariel and gain rule over Atlantica.
Wrapping Up!
Though you can watch anything and everything on Netflix, including comedy, thriller, horror shows, Halloween movies, suspense, horror movies, classic, cartoon, action, romance, cooking shows, sci-fi, reality, kid movies, emotional drama, Marvel shows, and documentaries – it is time to enjoy the best mermaid movies on Netflix.
Mermaids have captured our hearts for centuries. Who doesn't love their mesmerizing tails and beautiful voices? If you're looking for a good mermaid movie to watch, we've got you covered.
Whether you're in the mood for a heartwarming story or an edge-of-your-seat thriller, we've got something for everyone in this list of best mermaid movies on Netflix. So dive into our list and find your new favorite mermaid movie!