Hunting again for the best zombie movies on Netflix available right now?
You can skim through the few iconic zombie films available on Netflix, but the majority of the movies currently offered to watch are indeed new indie undead films.
Netflix seems to have recognized our unusual appetite for everything related to these undead creatures since the streaming service has a slew of films and episodes devoted solely to zombie enthusiasts.
This streaming platform is constantly introducing movies to watch on Netflix to their library, making them accessible to those who prefer documentaries, action pictures, and zombie movies, among other genres.
Here are the best zombie Netflix movies on Netflix to watch this year.
Best Zombie Movies On Netflix USA in 2022
IMDB Rating: 5.8/10
Director: Robin Aubert
Writers: Robin Aubert
Cast: Micheline Lanctôt, Didier Lucien, Brigitte Poupart
Runtime: 1h 36m
The zombie apocalypse is already yesterday's news when Ravenous debuts. After an apocalypse in which the majority of the residents of a tiny town in the woods have converted into voracious zombies, survivors band together in the hopes of reaching the safety of the big metropolis.
When they discover what occurred in other places, though, their trip becomes hopeless. Except for Reich, the troops are all laughing in some manner.
Even when the tale veers into shapeless gore, "Ravenous" is the type of zombie apocalypse picture where you relish the texture of the filmmaking.
IMDB Rating: 6.3/10
Director: Ben Howling
Writers: Yolanda Ramke
Cast: Finlay Sjoberg, Simone Landers, Susie Porter
Runtime: 1h 44m
Andy and Kay, together with their one-year-old daughter Rosie, are sheltered aboard a houseboat in rural Australia in a world overrun by a virus that transforms people into zombies in 48 hours in this scary movie.
Andy notices two toddlers playing on the riverbank while moving for the night. He calls out to them, but then continues on his way after the father notices Andy and pulls out a handgun from his belt.
In the aftermath of a deadly epidemic in rural Australia, an infected father anxiously looks for a new home for his young daughter as well as a way to shield her from his own evolving nature.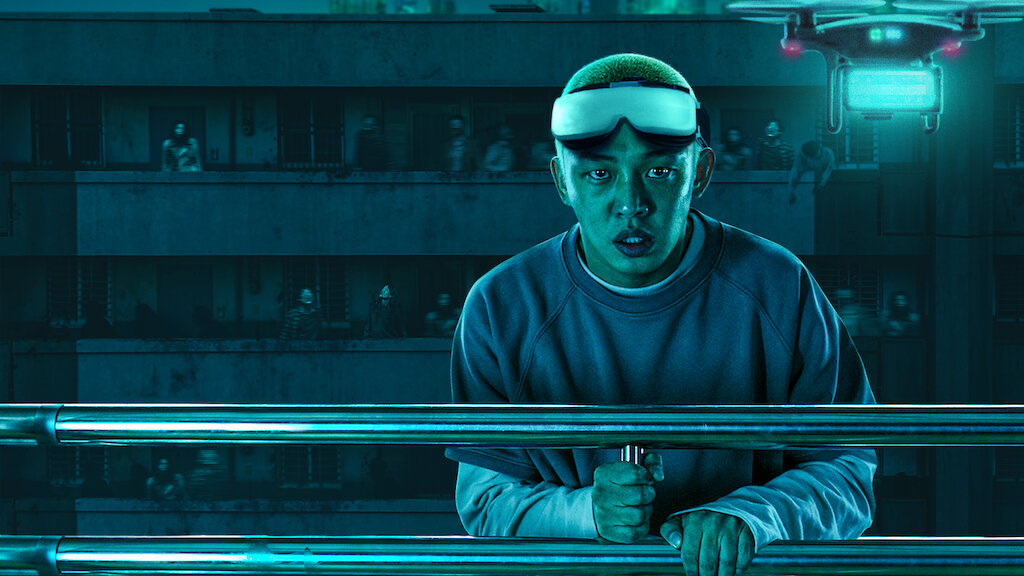 IMDB Rating: 6.3/10
Director: Il Cho
Writers: Il Cho
Cast: Hyun-Wook Lee, Yoo Ah-in, Jeon Bae-soo 
Runtime: 1h 38m
Jun-u chooses survival as a mystery sickness turns his fellow people into flesh-eating monsters.
He promises himself that he will survive from the beginning, and he arranges his food, protects himself indoors, and even consumes some of his father's expensive liquor.
But his towering self-assurance also means he may fall as severely as anybody else. Yoo documents his emotional journey as things deteriorate as food runs out and loneliness sets in, resulting in some intense emotional work from Yoo. One of the best Halloween movies on Netflix, to watch on this Halloween.
IMDB Rating: 3.4/10
Director: Hèctor Hernández
Writers: Mark Tonderai
Cast: Jeff Gum, Lillian Blankenship, Shari Watson
Runtime: 1h 30m
Zoe Parker, a medical student at Whittendale University, unwillingly attends a party at the request of her pals.
Zoe is accosted by her troubled patient Max, who is madly in love with her and whose blood contains an exceptionally high amount of antibodies while getting a keg of beer from the mortuary.
He assaults her and tries to assault her, but a corpse incinerates and bites Max in the throat. Zoe exits the party and tells everyone, but hordes of the corpses, subsequently named rotters, storm in and kill everyone but Zoe, who flees through a window only to discover the city surrounded by rotters.
Though this movie couldn't make it to the best zombie movies on Netflix it will definitely keep you entertained on a weekend night with friends or family.
Other than these you can also watch content like cooking shows on Netflix, some amazing sci-fi movies, and reality shows on Netflix, with your family and friends!
5. Doom: Annihilation (2019)
IMDB Rating: 3.7/10
Director: Tony Giglio 
Writers: Tony Giglio
Cast: Luke Allen-Gale, Amy Manson, Clayton Adams
Runtime: 1h 36m
Dr. Betruger prepares to transport a volunteer from a UAC facility in Nevada to Phobos utilizing ancient teleporters known as "Gates" on a United Aerospace Corporation (UAC) base on Phobos.
The experiment is effective, but the individual is somewhat disfigured as a result of it. A detachment of Soldiers on a mission to protect the Phobos base emerges from cryosleep aboard a UAC transport vehicle.
This film might not be on the top list of best zombie movies on amazon prime.
IMDB Rating:  5.8/10
Director: Zack Snyder
Writers: Zack Snyder
Cast: Ella Purnell, Theo Rossi, Nora Arnezeder
Runtime: 2h 28m
A road accident jeopardizes a classified cargo being delivered by the US army from Area 51. The container releases a metahuman zombie that kills the troops and infects the adjacent metropolis of Las Vegas.
The US administration quarantines the city in order to safeguard the country, keeping the zombies within.
After this zombie attack in Las Vegas, a crew of mercenaries decides to take the ultimate risk and enter the quarantine zone in order to pull off the largest robbery ever attempted.
The movie is action-packed zombie apocalypse and focuses on a global pandemic of living dead and is considered to be one of the great modern zombie movies. It grabs the attention of the users since the opening credits sequence.
IMDB Rating: 7.0/10
Director: Chris Butler
Writers: Chris Butler
Cast: Anna Kendrick, Kodi Smit-McPhee, Leslie Mann
Runtime: 1h 32m
In this movie belonging to a zombie genre Norman Babcock, a young man with the capacity to communicate with the dead humans, likes their company over that of the living beings.
Norman learns from his distant Uncle Prenderghast that a hundred-year-old vampire's curse on their village is genuine, and only one person can stop it, which is  Norman.
When zombies emerge from the dead due to a zombie outbreak, Norman must use all of his courage and compassion, as well as his supernatural skills, to save his companions and citizens.
IMDB Rating: 7.0/10
Director: Seong-hun Kim
Writers: Eun-hee Kim
Cast: Byeong-eun Park, Choi Dong-Gu, Kyo-hwan Koo
Runtime: 1h 33m
In this epic hit of South Korea, Ashin believes Joseon lied to her after invading the Pajeowi camps and offered her father, Ta-hab, a mercy death.
Her community was falsely accused of murdering Jurchen troops, prompting a reprisal that killed her family and friends.
She returns to headquarters, where she discovers records revealing that her commander, Chi-rok, planned everything, using her town as a scapegoat to shield Joseon Haewon Cho clan members accused of murdering trespassing Jurchens in a war crime.
IMDB Rating: 6.6/10
Director: Susanne Bier
Writers: Eric Heisserer
Cast: Trevante Rhodes, Sarah Paulson, Sandra Bullock 
Runtime: 2h 4m
Only one thing is guaranteed when a mysterious force decimates the population: if you see it, you will die.
The surviving individuals must now avoid colliding with a creature that takes on the appearance of their deepest nightmares.
A mother and her children set out on a perilous trek into the woods and down a river in search of a haven of refuge, hoping to find hope and a new beginning.
To accomplish it, they'll have to blindfold themselves and conceal their eyes from the horror pursuing them. The laws of survival have now shifted. Will Malorie and her children make it until the next day in the direct sequel of this hit?
10. Ladronas de Almas (2015)
IMDB Rating: 5.0/10
Director: Juan Antonio de la Riva
Writers: Christopher Luna
Cast: Ana Sofía Durán, Javier Escobar, Sofía Sisniega
Runtime: 1h 28m
Ladronas de Almas is based on a squad of rebels arriving at an ancient semi-abandoned property during the Mexican independence struggle. A disabled dad, his three daughters, and a couple of maids reside there.
After one night, the insurgents begin to suspect that the family who lives there is hiding something really sinister. A party of suspected rebels comes to a property where the owner, his children, and a servant are the only residents.
They are in conflict with the supposedly helpless ladies, who have a gruesome advantage because they do not want to leave the fight empty-handed.
IMDB Rating: 5.2/10
Director: Paween Purijitpanya
Writers: Tossaphon Riantong, Paween Purijitpanya, Vasudhorn Piyaromna 
Cast: Nuttanicha, Paris Intarakomalyasut, Thanapob Leeratanakachorn
Runtime: 1h 57m
The Ghost Lab has been nominated for the best zombie movies on Netflix 2021. The Ghost Lab is back in the real world. Regardless, the zombie Arj resuscitates Wee, who then crumples down as Wee awakes.
As Wee heals in the hospital, we learn that he may never be a doctor again and that his Experiment study will not be published.
He seemed to have entirely failed. Two physicians become dangerously obsessed with collecting verifiable evidence that ghosts exist after experiencing a haunting at their hospital.
IMDB Rating: 6.7/10
Director: Mati Diop
Writers: Mati Diop(screenplay by),Olivier Demangel(screenplay by)
Cast: Mame Bineta Sane,Amadou Mbow,Traore
Runtime: 1h 46m
Set in the coastal suburb of Dakar, unpaid workers of a construction tower decide to leave the country for a bright future. They arrive in Spain. One of them is Souleiman, a lover of Ada.
But Ada is already engaged to a wealthy man named Omer. While Ada is waiting to hear about her lover, her wedding day approaches. Unfortunately, on the wedding day, Omer dies when his bed catches fire.
During the investigation, a young detective suspects Ada. While it is also revealed that the spirits of lost men have possessed most of the town, the investigation takes an interesting turn.
IMDB Rating: 6.4/10
Director: Matthias Schweighöfer
Writers: Zack Snyder(based on characters created by)Shay Hatten(screenplay by)
Cast: Matthias SchweighöferNathalie EmmanuelRuby O. Fee
Runtime: 2h 7m
Sebastian is a bank teller from Potsdam who creates Youtube videos about safecracking. Once in a safecracking competition, he meets a skilled jewel thief who later adds him to a crew.
The crew is on a mission to crack Europe's most secure and impossible to crack safes. In the coming years, their life becomes adventures as they become Interpol's most wanted criminals.
When Interpol is after them, a zombie apocalypse is in its initial phases.
IMDB Rating: 6.5/10
Director: David Gordon Green
Writers: John Carpenter(based on characters created by)Debra Hill(based on characters created by)Jeff Fradley
Cast: Jamie Lee Curtis, Judy Greer, AndiMatichak
Runtime: 1h 46m
After spending almost 40 years in jail for a killing spree on Halloween night, Michael Myers finds a way to escape when his vehicle has an accident on its way from a psychiatric hospital to prison.
In 1978, 40 years ago, Michael tried to attack Laurie. Since then, Laurie lives in a very fortified house and is very scared of facing Michael back. When Michael escapes, he kills many people, some of them close to Laurie.
When Laurie arrives at the murder scene, she gets to see Michael after four decades, and she immediately shoots him in the shoulder. Next is the investigation process that makes shocking revelations.
IMDB Rating: 5.4/10
Director: Vincenzo Natali
Writers: Vincenzo Natali, Stephen King(based on the novella by), Joe Hill(based on the novella by)
Cast: Laysla De OliveiraAvery WhittedPatrick Wilson
Runtime: 1h 41m 
On their way to San Diego, two siblings: Becky and Cal, listen to the screams of a boy stuck in the tall grass. Concerned about the boy, both of them enter the grass and feel something unnatural as they lose sight of each other.
Becky, who is pregnant, gets in trouble when she is attacked by a Ghost. Meanwhile, her partner arrives to save Becky. This incident unites the family against the evil.
IMDB Rating: 3.7/10
Director: Barry Gonzalez
Writer: Ays De Guzman
Cast: Paolo Contis, Archie Alemania, Beauty Gonzalez
Runtime: 1h 25m
It is a story of two brothers who are jolly fellows. One day they meet a group of female vloggers. The vloggers talk about the mysterious island and express their wish to visit and make videos there.
The two brothers tell the vloggers that they have been to this island before many times and it is very safe to visit and film there. On the assurance of safety, the female vloggers accompany the two brothers to the island.
But when they reach there, things begin to change. What happens next is a set of supernatural events, and they keep discovering many secrets of the island.
IMDB Rating: 4.2/10
Director: Andrea De Sica
Writers:  Alice Chiara Palazzolo(based on the book), Gianni Romoli(screenplay), Andrea De Sica(screenplay)
Cast: Pagani, Rocco Fasano, Silvia Calderoni
Runtime: 1h 30m
Mirta has an adventurous boyfriend, Robin, who loves doing crazy stunts. He is also a drug addict, and therefore Mirta also starts using drugs. One day both of them are found dead, and the reason is excessive use of drugs.
They are buried together in a mausoleum. One day some strange forces bring Mirta back to life, and she is strong enough to break the bricks of the mausoleum. Later she discovers that she must eat humans to stay alive; therefore, she kills many humans.
18. Pet Sematary (2019)
IMDB Rating: 5.7/10
Directors: Kevin Kölsch,Dennis Widmyer
Writers: Stephen King(based on the novel by), Matt Greenberg(screen story by), Jeff Buhler(screenplay by)
Cast: Jason Clarke, Amy Seimetz, John Lithgow
Runtime: 1h 41m
It is a story of the family of Doctor Louis. He moves with his family from Boston to somewhere in Maine. While exploring the woods, his family discovers a graveyard where animals are buried.
The daughter of Dr. Louis has a pet cat named Church. On Halloween, Church is killed by a truck. Ellis, daughter of Dr. Louis, buries her cat in that animal Sematary.
The next day the family is stunned to see the cat back and alive. That day they come to know that this Sematary is mysterious. Later, when Ellis dies in an accident, her dad buries her in that Sematary, and she comes back, but she is not the same girl.
Conclusion
Netflix now has a virtual collection of old and new family-friendly classics. Though you can watch anything and everything on Netflix including comedy on Netflix, thriller, horror shows, suspense, cartoon, romance, emotional drama, Marvel shows, and documentaries on Netflix – you can enjoy zombie movies anytime and anywhere.
It used to be a common notion that Netflix was lacking in zombie feature films, but now this fact has changed dramatically.
Zombies have dominated many film genres since their first appearance on the big screen. Zombie films and television series have grown in popularity, with a large fan following.
With no signs of stopping, the zombie mania has infiltrated many aspects of popular culture. So, which zombie series or movie is your favorite? We hope you found this article helpful in deciding which zombie film to watch next.