Netflix has no shortage of amazing content, but pet movies in the list of must-watch Netflix titles bring an oomph factor to your streaming experience.
Furry stars in movies are an uncommon occurrence. However, no one can overlook their existence or the amount of attractiveness they bring to the screen. The narrative has it all, from heartbreaking to super-adventurous. "Humans are superior to dogs," no one ever said.
Only those who have felt a dog's unconditional love and loyalty can truly comprehend it. Dog movies on Netflix now may be action-packed or a family drama, but all of these dog films show the wonderful qualities of dogs and demonstrate why they are known as "a man's best friend."
If you have a puppy, you understand what it's like to cuddle with your fuzzy little best friend, and what's even better is cuddling with that furry pet while watching a film about other incredible creatures who remind you how fortunate you are to have such a gift in your life.
We swear the world would be a much nicer place if we could take our pets wherever we wanted, but alas, that is not the case. We cannot take our dogs to the movies but don't worry; you can bring world-class movies to them! This is possible now that we have dog movies on Netflix.
1. Trouble (2019)
Director: Kevin Johnson
Writers: Rob Muir
Cast: Big Sean, Pamela Adlon
IMDB Rating: 5.8/10
Trouble is a privileged dog who lives with his owner, Mrs. Vanderwhoozie, her loyal butler, James, & famous animal trainer Cesar Millan in an opulent house.
When Mrs. Vanderwhoozie dies & Trouble is left alone, Trouble's beautiful life in the house is ruined. Claire & Norbert Vanderwhoozie, Mrs. Vanderwhoozie's nephew & niece, arrive to receive their inheritance, adding to the turmoil.
They only have three days to establish a rapport with Trouble to access the estate. But that isn't easy when they have other plans. The trouble now needs to learn the right way to survive and make new friends.
2. Seventeen (2019)
Director: Daniel Sánchez Arévalo
Writers: Daniel Sánchez Arévalo
Cast: Nacho Sánchez, Iñigo Aranburu, Biel Montoro
IMDB Rating: 7.2/10
One can watch these dog movies on Netflix, which shows the beautiful bond between the boy and his dog. Hector, 17, forms an unshakable bond with a dog as frightened and aloof as himself as part of a juvenile prison center's rehabilitation program.
Hector flees to hunt for his therapy dog after it does not show one day since it has been adopted. He embarks on an unexpected voyage with his older brother Ismael, his grandma Cuca, two dogs, a cow, and other animals.
3. Pup Star (2016)
Director: Robert Vince
Writers: Kirsten Hansen
Cast: Carla Jimenez, Susie Wall, Makenzie Moss
IMDB Rating: 4.4/10
Tiny, a puppy who can not only talk but also sing, seeks to make her place in the world of singing competitions in a world where dogs can not only talk but also sing.
Tiny gets kidnapped by a dog pound worker and embarks on a trip with her pal Charlie, teaching her to never give up on her ambitions.
4. A Shaun the Sheep Movie: Farmageddon (2019)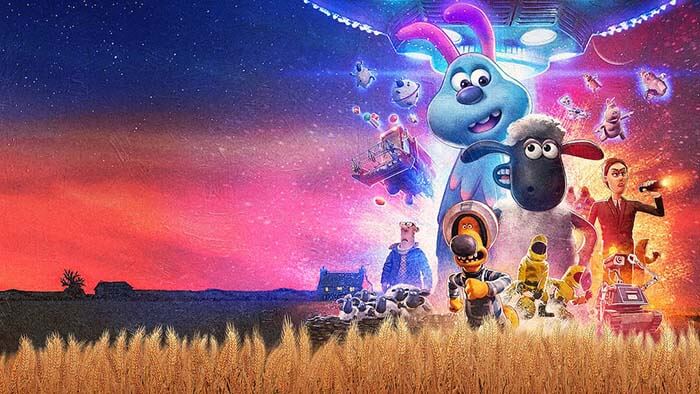 Director: Richard Phelan
Writers: Richard Starzak
Cast: John Sparkes, Justin Fletcher, Amalia Vitale
IMDB Rating: 6.8/10
Shaun and his companion's sheep discover the cause of weird activity on Mossy Bottom Farm and the surrounding area: alien hiding since she crashed on Earth.
Even though they don't speak the same language, the creatures try to communicate and gradually come to comprehend one another, understanding that the extraterrestrial can mimic sounds like laughing and screaming.
Shaun and his pals quickly realize that the extraterrestrial, LU-LA, is attempting to regain her spaceship so that she can return to her homeworld and rejoin her family.
With Mossingham's alien-hunting organization on their tail, Shaun and LU-LA will have to move quickly if they are to complete their job!
5. Pup Star: Better 2Gether (2017)
Director: Robert Vince
Writers: Robert Vince
Cast: Madison Pettis, Madison Pettis, Danny Woodburn
IMDB Rating: 4.7/10
Pup Star has returned for a brand-new adventure! Tiny, the cute Yorkie, finds her world flipped upside down when a nasty rival substitutes her out in competition with a street dog named Scrappy after winning the canine competition show 'Pup Star' and becoming an international pup star.
In this delightful and amusing dog-out-of-water adventure, the two pups find themselves living each other's very different lives, and an extraordinary voyage around great cities unfolds!
As they prepare for the Pup Star competition to reach its conclusion, they each have a unique perspective on life and learn the value of family and being loyal to themselves.
6. Pick of the Litter (2018)
Director: Dana Nachman
Writers: Dana Nachman
Cast: Diane Meer, Janet Gearheart, Sharon Kret
IMDB Rating: 7.6/10
This movie comes in the list of best dog movies on Netflix you can watch. Pick of the Litter follows a litter of puppies as they grow up and prepare to become Guide Dogs for the Blind, the ultimate canine job.
Cameras track these pups as they train to become dogs whose ultimate mission is to guard their blind partners from harm throughout a two-year journey.
Along the way, the dogs meet a group of dedicated people who train them to accomplish remarkable, life-changing things in the service of their owners.
It's a high-stakes game, and not every dog will cut it. Only the best of the best will be accepted. The best of the bunch.
7. Puppy Star Christmas (2018)
Director: Robert Vince
Writers: Robert Vince
Cast: David DeLuise, Kaitlyn Maher, Makenzie Moss
IMDB Rating: 4.0/10
The Pup Star clan has become much larger! Cindy, Rosie, Charlie, & Brody, the new puppies, will have to find the real meaning of Christmas.
The pups end up in the North Pole to defend Santa and the holiday joy when Pup Star's evil crew plots to spoil Christmas. Their voyage is chock-full of fantastic pop-tastic songs that will spread festive pleasure all year.
8. Mr. Peabody & Sherman (2014)
Director: Rob Minkoff
Writers: Craig Wright
Cast: Max Charles, Ariel Winter, Ty Burrell
IMDB Rating: 6.8/10
Mr. Peabody, the world's most accomplished canine, and his boy, Sherman, use the Wabac, a time machine, to embark on crazy adventures.
On the other hand, Sherman mistakenly tears a hole in the cosmos and causes havoc with world history when he takes the Wabac without permission to impress his friend Penny.
Mr. Peabody must mount a rescue mission to prevent the past, present, and future from being irreversibly altered.
9. Pets United (2019)
Director: Reinhard Klooss
Writers: Reinhard Klooss
Cast: Patrick Roche, Eddie Marsan, Natalie Dormer
IMDB Rating: 3.8/10
When the criminal mayor and his robot army grab control of Robo City and order its scared people to flee, a street-smart stray dog named Roger teams up with Belle, a pampered pet cat.
Roger and Belle must step up to lead a herd of abandoned dogs on a high-stakes, action-packed adventure to defend their city now that the humans are gone.
10. The Mitchells Vs. the machines (2021)
Director: Michael Rianda
Writers: Jeff Rowe
Cast: Abbi Jacobson, Maya Rudolph, Danny McBride
IMDB Rating: 7.7 /10
Katie Mitchell, a young film student, goes on a road journey to begin her first year of film school with her proud parents, younger brother, and beloved dog.
When the world's electronic devices awaken and launch an uprising, their attempts to unite as a family is rapidly thwarted.
The Mitchells must now join together with the assistance of two sympathetic robots to save themselves and the Earth from the new technological revolution.
11. Life In The Doghouse (2018)
Director: Ron Davis
Writers: Ron Davis
Cast: Danny Robertshaw, Ron Danta
IMDB Rating: 8.4/10
Life In The Dog House chronicles Danny Robertshaw & Ron Danta's fascinating lives and the incredible work they undertake at Danny & Ron's Rescue.
Their unusual attitude to life and dog rescue will steal hearts & inspire millions to make the right decisions when it comes to man's best friend ten years and 10,000 dogs later. This is the best documentary dog movie on Netflix, which you can watch.
12. Hotel For Dogs (2009)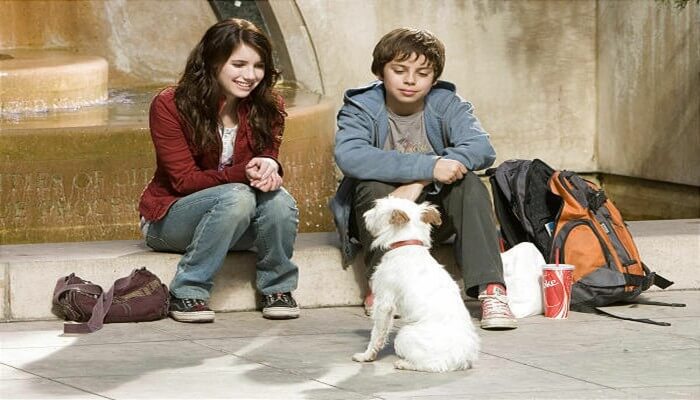 Director: Thor Freudenthal
Writers: Jeff Lowell
Cast: Emma Roberts, Kyla Pratt, Jake T. Austin
IMDB Rating: 5.4/10
Andi and Bruce must immediately find a home for their dog Friday after moving into a foster home that does not allow pets.
Thanks to Bruce's mechanical skills, the enterprising duo discovers an abandoned hotel and transforms it into a canine paradise for Friday and a slew of stray dogs.
But, when the inevitable barking raises suspicion among neighbors, Andi and Bruce must devise a strategy to keep their canine haven hidden from curious eyes.
13. Patrick The Pug (2018)
Director: Mandie Fletcher
Writers: Mandie Fletcher
Cast: Emily Atack, Beattie Edmondson, Ed Skrein
IMDB Rating: 6.8/10
One of the best dog movies on Netflix follows Sarah, a young lady whose life is turned upside down when her grandmother bequeaths her dearest item, a pampered Pug named Patrick, to her.
Sarah recently moved into the new apartment with a no-pet restriction and began teaching English to grades 11 and 12. She has a hard time dealing with both Patrick and the school's punishment. She finally connects with the pupils and bonds with Patrick after a few occurrences.
14. Pup Star: World Tour (2018)
Director: Robert Vince
Writers: Robert Vince
Cast: Brian Hull, Kaitlyn Maher, David DeLuise
IMDB Rating: 4.4/10
The iconic singing-pup competition show Pup Star is back, and it's larger than ever! After attaining international fame, Tiny the cute Yorkie joins the celebrity judges for the first Pup Star World Tour.
The judges each welcome a contestant from around the world to the Pup Star pack, where they will be trained to compete for the new title of global pup star champion.
15. Benji (2018)
Director: Brandon Camp
Writers: Brandon Camp
Cast: Jerod Haynes, Darby Camp, Gabriel Bateman
IMDB Rating: 6.3/10
The best dog movies on Netflix highlight Benji, a stray dog who does not require an owner and wants to wander freely throughout his beloved Texas town. He enjoys criticizing a nearby widow's cat and can always count on a generous shopkeeper.
When two of Benji's favorite kids are captured and held for ransom, the dog jumps into action to save the day and foil the thieves. Along the way, he meets Tiffany, a charming Maltese, and they fall in love.
16. A Whisker Away (2020)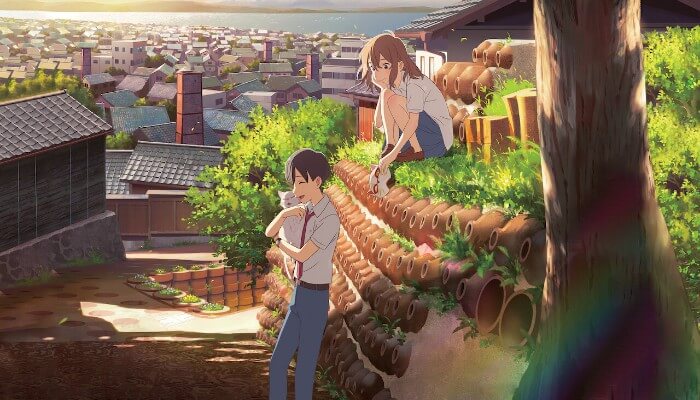 Director: Junichi Sato
Writers: Mari Okada
Cast: Hiroaki Ogi, Natsuki Hanae, Mirai Shida
IMDB Rating: 6.7/10
Miyo Sasaki is a dissatisfied middle school student from Tokoname, Aichi Prefecture, who has had a tense relationship with her stepmother Kaoru since her mother Miki Sasaki passed away.
Despite his repeated rejections, she attempts every day at school to flirt with her crush, Kento Hinode. Miyo is transformed into a cat after purchasing a mysterious Noh mask from a weird mask seller.
17. Arctic Dogs (2019)
Director: Aaron Woodley
Writers: Bryan Thompson
Cast: John Cleese, Jeremy Renner, Heidi Klum
IMDB Rating: 4.8/10
Swifty, the fox, uncovers Otto Von Walrus's nefarious plan to burrow beneath the Arctic surface to release enough gas to melt all of the ice.
Swifty and his group disrupt Otto's plot and save the day with the help of their friends: an introverted polar bear, a scatterbrained albatross, a cunning fox, and two neurotic otters.
18. As Good as it Gets (1997)
Director: James L. Brooks
Writers: Mark Andrus
Cast: Greg Kinnear, Helen Hunt, Jack Nicholson
IMDB Rating: 7.7/10
You can watch best Dog movies on Netflix in which Melvin Udall is an obsessive-compulsive romantic fiction writer who is rude to everyone he meets, including his gay neighbor Simon.
However, when he is forced to look after Simon's dog, he softens and discovers that, despite his problems, he can have a relationship with the only waitress at the local diner who will serve him.
19. White Fang (2018)
Director: Alexandre Espigares
Writers: Philippe Lioret
Cast: Paul Giamatti, Rashida Jones, Nick Offerman
IMDB Rating: 7/10
When a young wolfdog pup is separated from his mother, his curiosity about the world around him leads him on a once-in-a-lifetime adventure.
The wolfdog would evolve into a noble beast during his travels, earning the title of White Fang from an Indian tribe who took him in when one of their sled dogs became unable to work.
Unfortunately, the conniving Beauty Smith swindles White Fang away from his first master and forces him to become a fighting dog.
Marshal Weedon Scott, who would become his final owner, eventually discovers him. Weedon manages to free White Fang and forms a bond with him.
20. Beethoven (1992)
Director: Brian Levant
Writers: Edmond Dantès
Cast: Bonnie Hunt, Dean Jones, Charles Grodin
IMDB Rating: 5.7/10
This movie is on the list of 90's best dog movies on Netflix. The patriarch quickly feels displaced when George Newton's family adopts a charming St. Bernard puppy.
Beethoven, the cute canine, quickly grew in size, causing a slew of domestic disasters. While George's children and wife adore Beethoven, it takes him some time to recognize the dog's best traits.
However, Beethoven's existence with the Newtons is imperiled when a deceitful veterinarian tries to kidnap the dog for a lethal experiment.
21. The Power of the Dog (2021)
Director: Jane Campion
Writer: Jane Campion
Cast: Kirsten Dunst, Jesse Plemons, Keith Carradine, Frances Conroy
IMDB Rating: 7/10
The Power of the Dog is one of the movies on Netflix, and it narrates the story of a man named Phil Burbank. He is cruel and cold-hearted. He is known to be a bully that goes around his hometown, inspiring fear in anyone around him.
When his brother visited with his wife and her son, he found it very hard to resist not hurting their feelings. In the midst of all this, he took his brother's son as his, and love began to build around him. Will Phil be able to control this mixed feeling for good?
22. June and Kopi (2021)
Directors: Noviandra Santosa
Writers: Noviandra Santosa, Titien Wattimena
Cast: Acha Septriasa, Ryan Delon, Makayla rose, Ruth Permatasari
IMDB Rating: 6.3/10.
June and Kopiis an exciting dog movie meant for kids and adults. It is rated one of the best dog movies on Netflix, and it narrates the story of two dogs. A lady takes June into her home and introduces him to her dog (Kopi).
They both got along, but along the way, the husband isn't pleased with the idea anymore and suggests June should be taken to a shelter home. Will June adapt to his new life in his shelter home, and how will both dogs feel henceforth.
23. Turner & Hooch (1989)
Director: Roger Spottiswoode
Writers: Dennis Shryack
Cast: Craig T. Nelson, Tom Hanks, Mare Winningham
IMDB Rating: 6.2/10
Det. Scott Turner is a stiff, rule-following cop who aspires to work in the big city after leaving his rural California town. After his friend Amos Reed, a junkyard owner, Turner reluctantly inherits the man's dog, is killed.
Turner attempts to acclimate to living with the enormous dog after realizing that the canine may assist him in solving the murder case, resulting in much household ruin and unwelcome upheaval.
24. Super Buddies (2013)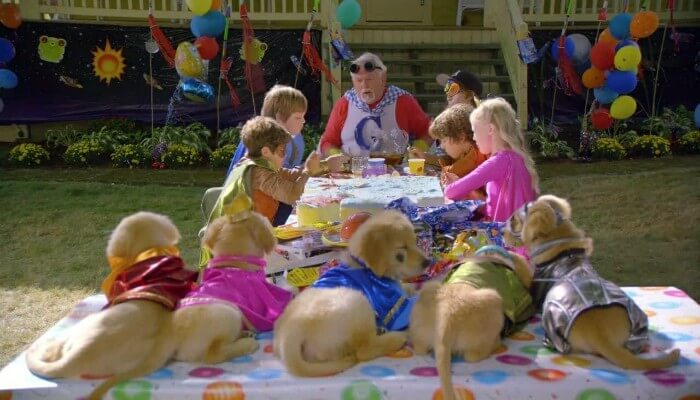 Director: Robert Vince
Writer: Anna McRoberts
Cast: Trey Loney, John Ratzenberger, Jay Brazeau
IMDB Rating: 4.4/10
Super buddies is one of the most exciting dog movies on Netflix, captivating to watch. The Buddies discover five mystical rings from the planet Inspiron.
They each have their own unique set of abilities. Budderball is granted super strength, Buddha is granted mind control, RoseBud is granted super speed, B-Dawg is granted superelasticity, & MudBud is granted invisibility.
With the help of Megasis/Captain Canine, the Buddies must utilize the rings appropriately to thwart Commander Drex, a power-hungry intergalactic warlord who wants to seize the rings for himself and rule Inspiron completely. The Buddies quickly discover that superpowers aren't required to be a superhero.
25. To be of Service (2019)
Director: Josh Aronson
Writer: Josh Aronson
Cast: Sylvia Bowersox, Tammi Gillum, Brittany Barry, Kellen Dewey
IMDB Rating: 7.3/10
This movie tells us the story of American veterans affected by the traumatic stress they face after the war in Afghanistan and how a dog solves their problem.
Some of these men start living on pills to help them out, while some start engaging in illegal drugs; the war seems to affect them significantly.
The dog finds a way to all help them out by having a therapy session with them, thereby bringing them together and igniting a new spirit in them. This movie is rated one of the best dog movies on Netflix.
26. All Dogs Go to Heaven (1989)
Director: Don Bluth
Writer: Don Bluth
Cast: Judith Barsi, Dom DeLuise, Loni Anderson
IMDB Rating: 6.8/10
In this animated film, canine casino owner Charlie is slain by gambler Carface. Still, thanks to the powers of a magical, rewindable watch, he returns to Earth from heaven.
Charlie devises a complex plan to exact vengeance on Carface, involving an orphan girl named Anne-Marie. However, Charlie realizes that Carface is using Anne-Marie as the scheme unfolds.
Charlie must choose whether or not to convert his objective from vengeance to rescue. This movie is rated one of the best dog movies on Netflix.
27. The Secret Life of Pets (2016)
Director: Chris Renaud
Writers: Brian Lynch
Cast: Eric Stonestreet, Kevin Hart, Louis C.K.
IMDB Rating: 6.5 /10
The Secret Life of Pets is a dog movie on Netflix, exciting and captivating to watch. Max is a spoiled terrier who lives in a New York building with his owner until Duke, a prominent and unruly canine, gets adopted. They come upon a pack of fierce alley cats on their walk outside and end up in a truck headed for the pound.
Fortunately, a defiant bunny named Snowball intervenes to free the doggie team from captivity. Max and Duke must join Snowball's gang of abandoned pets on a mission against the people who have wronged them in exchange.
28. White God (2014)
Director: Kornél Mundruczó
Writer: Kata Wéber
Cast: Sándor Zsótér, Szabolcs Thuróczy, Zsófia Psotta
IMDB Rating: 6.9 /10
When Lili is forced to give up her beloved dog Hagen because The State deems his mixed-breed heritage "unfit," she and the dog embark on a perilous journey back to each other.
At the same time, all the unwanted, unloved, and "unfit" dogs band together under a new leader, Hagen, a former house-pet who has learned all too well from his "Masters" on his trip through the streets and animal control centers that man is not always a dog's best friend.
29. Show Dogs (2018)
Director: Raja Gosnell
Writers: Max Botkin and Marc Hyman
Cast: Gabriel Iglesias, Stanley Tucci, Jordin Sparks, Will Arnett, Natasha Lyonne
IMDB Rating: 3.9/10
This movie narrates the story of a world filled with animals and humans where this animal consists of talking dogs. Max is a police dog who is to go undercover with his human partner to stop an animal smuggling scheme using dogs as a show front.
When Max finds out that this criminal is also planning to steal and sell a giant panda, he is forced to go undercover to save this giant panda. Will he and his partner stop this criminal before they execute their plan?
30. The Stray (2017)
Director: Mitch Davis
Writers: Mitch Davis
Cast: Sarah Lancaster, Michael Cassidy
IMDB Rating: 5.4/10
The story of a stray dog named Pluto appears out of nowhere and profoundly impacts the Davis family, struggling in many ways.
In a short period, Pluto the Wonder Dog saves a toddler, provides comfort and companionship to a heartbroken 9-year-old boy, assists in repairing the marriage, and mends a fractured father-son relationship. Pluto serves as both a guardian angel and a security dog.
Wrapping Up!
Though you can watch anything and everything on Netflix, including comedy, thriller, horror shows, Halloween movies, suspense, horror movies, classic, cartoon, action, romance, cooking shows, sci-fi, reality, kid movies, emotional drama, Marvel shows, and documentaries – it is time to enjoy the best dog movies on Netflix.
They're emotive, they're daring, and they're always looking for ways to brighten your day. We're talking about our four-legged furry pals, who have been giving their endearing qualities to film for decades.
While some films depict our canine companions' emotional side, others show their more playful side. Whatever the case may be, these adoring on-screen canines have made the films they've been in much more enjoyable to revisit throughout the years.
Dogs, in all opinions, make everything right, including movies. Netflix, thankfully, has a wealth of fantastic choices. Above are some of the most popular dog movies on Netflix for you to binge through.