Some movie genres available on Netflix can give an adrenaline rush. Yes, we are talking about the best action movies on Netflix. They can entertain you with seemingly perfect action and how the culprits are dealt with.
If you a fan of murders, kidnapping, zombies, drug lords, mafia, or national security breaches, our pick of action-filled movies are sure to make your blood rush.
Some of these titles are included in the best movies on US Netflix because of exciting plots and amazing cinematography. So enjoy the best explosions and fight sequences with these best action movies, and share the enjoyment with your gang for extra fun.
List of the Best Action Movies on Netflix (Martial Arts Movies Included)
1. 6 Underground
The plot of the movie revolves around six very different individuals belonging to different parts of the world. Each of them has done something in the past they want to change.
Their will to change the past and future is why they have been selected to go on a mission that will change their lives.
Cast: Ryan Reynolds, Mélanie Laurent, Manuel Garcia-Rulfo, Ben Hardy
Trailer: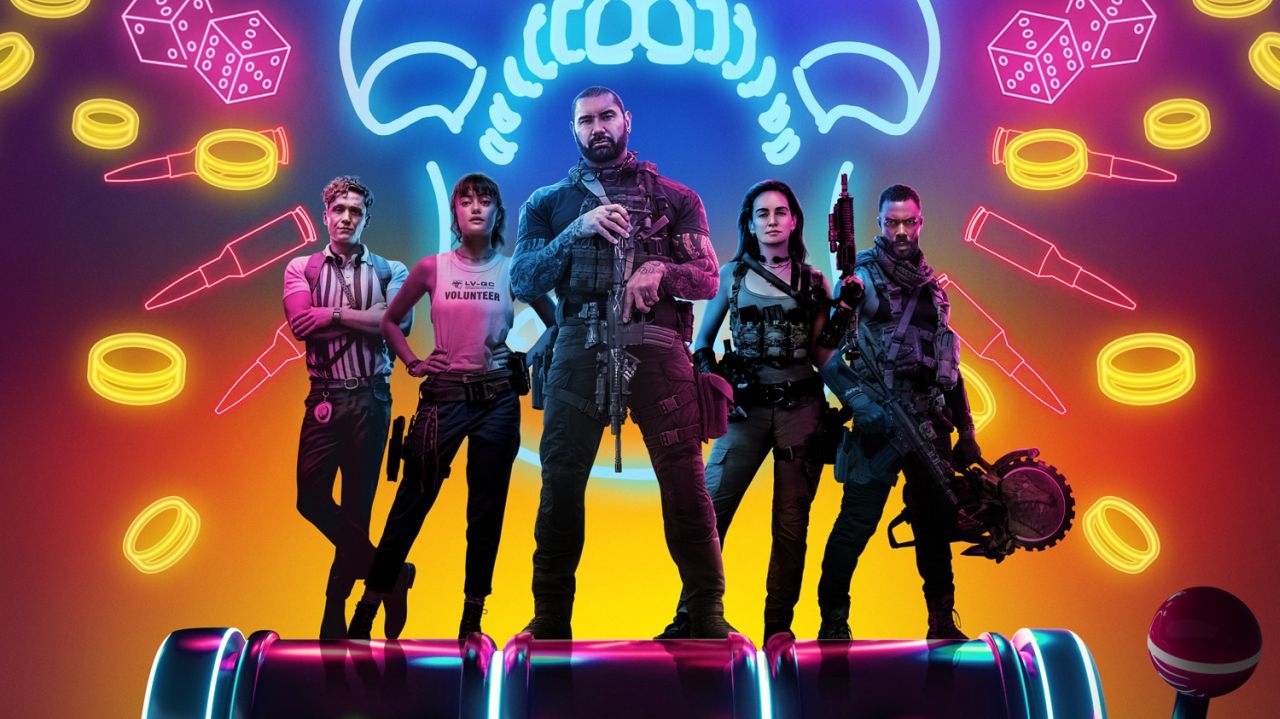 The series is set in the post-zombie apocalypse. However, the world is not how we know it, and people are looking for haven so they and their families can protect themselves from zombies.
After zombies take over Las Vegas, mercenaries try to get to a quarantine zone, but the journey is full of unexpected dangers.
Cast: Dave Bautista, Ella Purnell, Omari Hardwick, Ana de la Reguera
Trailer:
Avengement is the story of a low-life criminal who escaped from prison on a mission. He wants to avenge himself against all the people who turned against him and made him a cold-blooded killer.
The plot, gory details, ensemble cast, and mission make it one of the best action movie on Netflix, and you cannot miss it.
Cast: Scott Adkins, Craig Fairbrass, Thomas Turgoose, Nick Moran
Trailer:
Civil war is raging in Africa, and surviving it has become the priority of the people. During this period, a warlord trains an orphan so he can join his gorilla soldier group.
Will the orphan turns the tables on him, or can he count him as a valuable addition to the team? The mystery surrounding this question makes the movie worth your time.
Cast: Abraham Attah, Idris Elba, Ama K. Abebrese, Kobina Amissa-Sam
Trailer:
5. Beyond Skyline
To save his estranged kid, Detective Mark Corley storms into an extraterrestrial spaceship. But, when the spacecraft crashes in Southeast Asia, he forms an uneasy alliance with a group of survivors to reclaim the planet for good.
Cast: Frank Grillo, Bojana Novakovic, Jonny Weston, Callan Mulvey
Trailer:
6. Code 8
After committing a minor offense, a desperate young guy with unique abilities battles with the police. Then, in the early twentieth century, the public becomes aware of persons with superhuman powers, known as Powers, leading to the government adopting legislation mandating everyone to register their talents.
They rapidly became an important part of the economy, particularly in developing Lincoln City as the "City of Tomorrow."
Powers are sidelined in the face of growing mechanization as the Second Industrial Revolution begins, resulting in significant discrimination against second-class people.
Cast: Robbie Amell, Stephen Amell, Sung Kang, Chad Donella
Trailer:
7. Extraction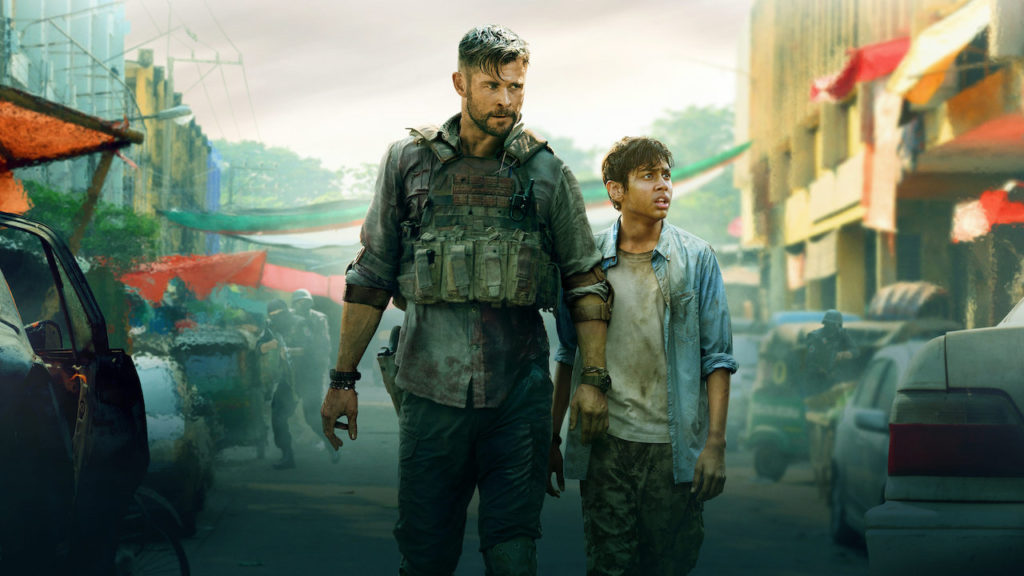 A black-market mercenary rescues the abducted son of an imprisoned international criminal boss with nothing to lose.
However, amid the dark underworld of arms dealers and drug traffickers, a task that is already lethal is on the verge of becoming impossible.
Cast: Chris Hemsworth, Tyler Rake, Rudhraksh Jaiswal, Ovi Mahajan, Randeep Hooda.
Trailer:
8. Free Fire
Justine is caught in the crossfire when a black-market guns sale goes horribly wrong, forcing her to maneuver through a warehouse full of trigger-happy maniacs who are all holding on for dear life.
Free Fire is full of excitement, fun, trauma, and shoot-outs making it one of the best action and thriller movies on Netflix.
Cast: Enzo Cilenti, Sam Riley, Michael Smiley, Brie Larson, Cillian Murphy
Trailer:
9. Headshot
A guy with amnesia (Iko Uwais) washes up on the beach, and a young doctor tends to him. Then, brutally, his history resurfaces to haunt them both.
Lee, a gangster, eludes capture in a firefight that kills hundreds of inmates and guards. Meanwhile, Lee and his henchmen Rika and Besi slaughter a rival gang with brutality.
Lee learns about Ishmael from one of the gang's survivors, and he sent the guy to investigate.
Cast: Iko Uwais, Chelsea Islan, Sunny Pang, Very Tri Yulisman
Trailer:
Dom Cobb is a burglar who possesses the unusual ability to infiltrate people's dreams and take their secrets from their subconscious.
His abilities have made him a sought-after commodity in the world of corporate espionage, but they have also lost him everything he cares about.
Cobb is given a second chance when it is apparently difficult to plant an idea in someone's head. Cobb's plan will be flawless if he succeeds, but a formidable adversary is watching his every step. You can also watch some amazing thrillers on Netflix,
Cast: Leonardo DiCaprio, Joseph Gordon-Levitt, Elliot Page, Tom Hardy
Trailer:
Foshan, a city in China, is known as the hub for martial arts training centers. Various instructors train the student, and their skills are tested via inter-school competitions.
Though Ip Man possesses superior skills as a master, he values his privacy and doesn't want everyone to know how capable he is. But, can he protect his secret, or will his popularity ruin everything he has been working for?
Cast: Donnie Yen, Simon Yam, Lynn Xiong, Hiroyuki Ikeuchi
Trailer:
12. Kickboxer: Retaliation
Kurt Sloane, an MMA champion, is imprisoned in Thailand by a strong mobster a year after avenging his brother's death.
To reclaim his freedom, he must prepare for an underground death battle against a 400-pound murderer. The ultimate match makes it one of the best crime movies on Netflix.
Cast: Alain Moussi, Jean-Claude Van Damme, Hafþór Júlíus Björnsson, Mike Tyson
Trailer:
James Earl Cash, a death row convict, awakens after his "execution" to find that prison authorities had been paid to fake his death and throw him into the grips of a snuff film group looking for a new star.
Cast: Zhang Hanyu, Masaharu Fukuyama, Qi Wei, Ha Ji-won
Trailer:
Cheung Tin Chi, a martial arts master who Master Ip defeated, seeks to live a regular life in Hong Kong until triad bosses entice him back into combat.
Cast: Jin Zhang, Dave Bautista, Michelle Yeoh, Tony Jaa
Trailer:
When Eddie Moscone employs tight-lipped bounty hunter Jack Walsh to discover and bring a mafia accountant dubbed "The Duke" to L.A., Eddie promises Jack that the task would be straightforward or a Midnight Run.
When Jack locates The Duke, the FBI and the mob are eager to get their hands on him. Jack must elude the cops, hide from the mob, and keep The Duke's volatile personality from driving him insane in a cross-country chase.
Cast: Robert De Niro, Charles Grodin, Yaphet Kotto, John Ashton
Trailer:
16. Ninja Assassin
Raizo is a member of the Ozunu, a clan of assassins who have been trained in assassination tactics since childhood. On the other hand, Raizo breaks away from the Ozunu after they slay his companion and departs.
Europol agent Mika Coretti, meanwhile, discovers a money trail tying the organization to killings. Raizo rescues Mika from his old colleagues and joins forces with her to end the Ozunu's reign of terror.
If you are a fan of the K-dramas then we have also the list of Korean movies on Netflix.
Cast: Rain, Joon Lee, Jonathan Chan-Pensley, Ill-Young Kim
Trailer:
17. Olympus Has Fallen
The unimaginable happens when heavily armed and well-trained terrorists undertake a daring daytime attack on the White House.
President Benjamin Asher and his staff are held prisoner when the facility is invaded. Mike Banning, a former presidential security officer, is fortunate for Asher, is on the scene.
With time running out, Banning must locate Asher's son before the radicals do, as well as rescue the president before his captors carry out their last plot.
Cast: Gerard Butler, Aaron Eckhart, Morgan Freeman, Angela Bassett, Robert Forster, Cole Hauser, Ashley Judd, Melissa Leo, Dylan McDermott
Trailer:
A drone pilot dispatched into a conflict zone is teamed with a top-secret android officer on a mission to prevent a nuclear strike shortly.
The constant threat of the world ending makes it one of the best action-thriller on Netflix (PG 13), and you should definitely give it a try. You can watch this family movie on Netflix on this weekend!
Cast: Anthony Mackie, Damson Idris, Enzo Cilenti, Emily Beecham
Trailer:
Scott Pilgrim is a bass guitarist for a garage rock band. When it comes to getting girls, according to his friends, he is the blessed one. As he falls for Ramona Flowers, he has to compete with an unending list of exes.
The army of ex-suitors is trying their best to eliminate Scott from Ramona's life. But, with this new problem, Scott is trying his best to get Ramona's attention.
Cast: Mary Elizabeth Winstead, Ramona Flowers, Kieran Culkin, Wallace Wells, Chris Evans, Lucas Lee, Anna Kendrick: Stacey
Trailer:
A mystery salesman tells a heartbreaking narrative of co-dependency in this quartet of neo-noir tales. At the same time, a musclebound vigilante shreds his way through the criminal underground in quest of his lost love.
In another section of town, a grizzled detective foils a child-plans killer while an ex-prostitute eludes her ex-pimp with the assistance of her new lover, Dwight.
Cast: Jessica Alba, Makenzie Vega, Devon Aoki, Alexis Bledel, Powers Boothe
Trailer:
A young man named Tristan goes into the world of fairies to collect a fallen star to win the heart of his sweetheart. But, on the other hand, Tristan discovers a woman called Yvaine, not a fragment of space rock.
Yvaine is in grave peril since the king's sons require her abilities to protect the kingdom, and a wicked witch seeks to use her to gain perpetual youth and beauty.
Cast: Claire Danes, Charlie Cox, Sienna Miller, Ricky Gervais
Trailer:
22. The Debt Collector
A British martial arts master finds a job as a debt collector for the mob while seeking work in America. However, he is forced to battle his way out of trouble when a job goes sour.
This action thriller can keep you entertained till the end and that makes it one of the best action films of all time.
Cast: Scott Adkins, Louis Mandylor, Vladimir Kulich, Tony Todd
Trailer:
23. The Night Comes for Us
A gangland enforcer named Ito is caught in the middle of a vicious and brutal insurgency inside his Triad criminal family. The story is full of plot twists, action, drama, and sacrifices making it worth your time.
Cast: Joe Taslim, Iko Uwais, Asha Kenyeri Bermudez, Sunny Pang, Salvita Decorte, Abimana Aryasatya
Trailer:
The Old Guard revolves around A crew of mercenaries, all centuries-old immortals with the ability to repair themselves, discovers that their secret has been discovered, and they must battle to maintain their independence.
Cast: Charlize Theron, KiKi Layne, Matthias Schoenaerts, Marwan Kenzari
Trailer:
The Siege of Jadotville recounts how a group of 157 Irishmen, commanded by a tactically competent leader, routed a force of 3,000 assailants, killing 300 of them while incurring no casualties.
The suspense, thrill, planning, and immaculate implementation of the plan make it one of the best action movie on Netflix.
Cast: Sam Keeley, Conor MacNeil, Charlie Kelly, Fionn O'Shea, Ronan Raftery
Trailer:
26. The Wandering Earth
When the sun dies, the inhabitants of Earth construct massive thrusters to propel the planet out of its orbit and into a new star system. Thus, young people are continuing the struggle for everyone's survival after 2,500 years.
Cast: Shaw Qu, Li Guang Jie, Ng Man Tat, Angel Zhao, Lei Jia Yin
Trailer:
In 2084, Douglas Quaid is a bored construction worker who dreams of visiting the colonized Mars. He goes to "Rekall," a firm that implants false memories in people's heads, to feel the excitement of Mars without having to travel there.
However, something goes awry during the surgery, and Quaid finds that his entire existence has been a false memory implanted in his mind, and the people who implanted it now want him dead.
Cast: Colin Farrell, Kate Beckinsale, Jessica Biel, Bryan Cranston
Trailer:
28. Triple Frontier
Former Special Forces members gather to plot a robbery in a sparsely inhabited South American multi-border zone. For the first time in their illustrious careers, these unsung warriors risk their lives for themselves rather than the country.
However, as events take an unforeseen turn and threaten to spin out of control, their abilities, loyalties, and morals are tested in a titanic struggle for survival.
If you like some comedy movies on Netflix you can watch them without any hassle now.
Cast: Ben Affleck, Oscar Isaac, Charlie Hunnam, Pedro Pascal, Garrett Hedlund, Adria Arjona
Trailer:
29. Triple Threat
The plot of the movie revolves around a hit on the daughter of a billionaire. But, unfortunately, a crime syndicate made her the target of an assassin team.
A small group of guards is making every effort to keep her alive. But, unfortunately, the constant fear and extreme approaches make it one of the crime movies on Netflix.
Cast: Tony Jaa, Iko Uwais, Tiger Chen, Scott Adkins, Michael Jai White, Michael Bisping
Trailer:
30. Wheelman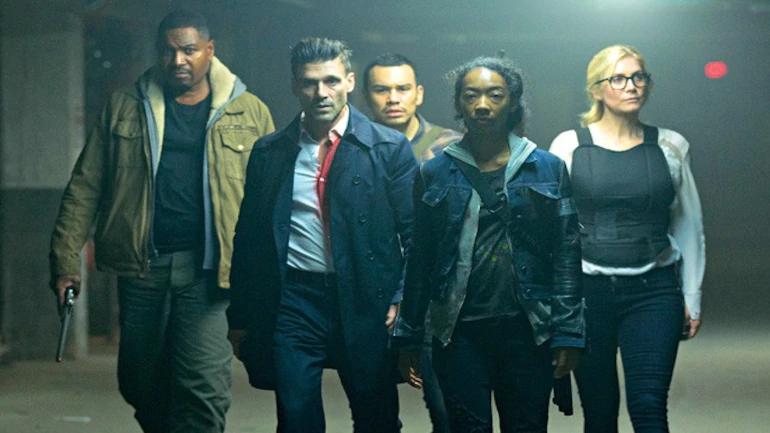 During a botched bank heist, a getaway driver gets double-crossed. With his family on the line, he rushes against the clock to figure out who betrayed him.
Cast: Frank Grillo, Caitlin Carmichael, Garret Dillahunt, Shea Whigham
Trailer:
31. I Onde Dager
A husband and wife, eager to terminate their marriage by murdering one other, travel to a rural cabin – only to discover a far greater menace awaits them. When it comes to action, amusement, and sheer fun  – you can't do better than this pick.
You can watch this Halloween movie on Netflix!
Cast: Tommy Wirkola, John Niven, Nick Ball
Trailer:
32. Red Notice
When the FBI's top analyst John Hartley receives an Interpol-issued Red Notice, the highest possible level warrant to seek down and apprehend the world's top wanted, he is already on the case.
His global quest lands him in the center of a spectacular theft, forcing him to collaborate with the world's finest art thief Nolan Booth in order to apprehend "The Bishop," the world's most sought art thief.
The ensuing high-flying journey takes the trio around the world, across the dance floor, into an isolated jail, into the forest, and, worst of all, into each other's company.
Cast: Dwayne Johnson, Ryan Reynolds, Gal Gadot
Trailer:
33. Sweet Girl 2021
Ray Cooper, a devoted family guy, pledges vengeance on the biotechnology company responsible for withdrawing a potentially life-saving medicine from the market moments before his wife dies of cancer.
However, when Ray's pursuit for the truth leads to a violent confrontation that puts Ray and his daughter Rachel in danger, Ray's objective becomes a quest for revenge in order to defend the only family he has left.
Cast: Jason Momoa, Manuel Garcia-Rulfo, Isabela Merced
Trailer:
34. Army of Thieves
Six years before the cataclysmic events of Army of the Dead (2021), timid small-town bank teller Sebastian lives a solitary, unremarkable existence in Las Vegas against the backdrop of an unprecedented viral epidemic.
Fascinated by locks and safes, the passionate YouTuber and theoretical safe-cracker will have his opportunity to shine when the enigmatic Gwendoline enlists his assistance in pulling off the robbery of the century: cracking a quartet of impregnable, Richard Wagner-inspired safes.
You can watch other horror movies on Netflix.
Cast: Matthias Schweighöfer, Nathalie Emmanuel, Stuart Martin
Trailer:
Closing
Though you can watch anything and everything on Netflix, including Netflix holiday movies, rom-com on Netflix, and anime on Netflix – our picks of the best action movies on Netflix can make your blood pump faster.
If you are a die-hard fan of action movies and martial arts film, you must have been a fan of the actors of traditional action films including Sylvester Stallone, Bruce Lee, Ben Affleck, Bruce Willis, Oscar Isaac, Arnold Schwarzenegger, Tommy Lee Jones, Harrison Ford, Chris Hemsworth, Charlize Theron, Donnie Yen, Zack Snyder, James Bond, Spike Lee, Robert De Niro, Jason Momoa, and Ryan Reynolds.
From sci fi to drug lord, you can enjoy your favorite stars in action with our selected titles. 
Get ready for the action rush and enjoy these amazing picks with the gang. Happy streaming.