Almost everyone is addicted to everything British. Whether it is the accent, vacuum cleaners, or Burberry trenchcoats, we have an intriguing obsession. The world's wonder over everything British is not specific to export, it also encompasses entertainment, and that's why we have picked the best British shows on Netflix Australia.
Get ready to be surprised because some of these series are titled as the best shows on Netflix Australia. So, without any further delay, let's enjoy the British accent and manners.
Best British Shows on Netflix Australia in 2022
IMDB Rating: 6.6/10
Director(s): N/A
Cast: Emma Appleton, Brandon P Bell, Keeley Hawes
No of Seasons: 1 Season
Traitors is a show about a young lady who is hired by the US Office of Strategic Services to find a Soviet spy in the Cabinet Office.
The suspense of the story plot and the action keep the streamers hooked to the show making it one of the most impressive British dramas.
IMDB Rating: 7.6/10
Director(s): Jim Field Smith, George Kay
Cast: Katherine Kelly, Lee Ingleby, Rochenda Sandall
No of Seasons: 2 Seasons
The drama is set in a police interrogation room where London detectives play a psychological cat-and-mouse game with their detainees in order to get the information they need to solve their crimes.
Each episode is self-contained, including the police squad as well as one suspect and a solicitor making it one of the best British shows on Netflix Australia.
IMDB Rating: 8.4/10
Director(s): Ronald D. Moore
Cast: Caitriona Balfe, Sam Heughan, Tobias Menzies
No of Seasons: 5 Seasons
Claire Randall, a married war nurse from 1945, is unexpectedly carried back in time to 1743, where she is instantly placed into an alien world where her life is threatened in Outlander.
The mystery related to the cause of time travel and dire circumstance makes this show an interesting watch, so do give it a try.
IMDB Rating: 7.6/10
Director(s): Julian Fellowes
Cast: Edward Holcroft, Kevin Guthrie, Charlotte Hope
No of Seasons: 1 Season
The focus of this show is on the birth of football and how it swiftly ascended to become the world's most popular sport by bridging social differences.
Upper-class sides, led by Old Etonians, dominated the early years of the FA Cup when football was still in its infancy as an amateur sport so how did it go as the king of all sports?
IMDB Rating: 8.8/10
Director(s): Charlie Brooker
Cast: Daniel Lapaine, Hannah John-Kamen, Michaela Coel
No of Seasons: 5 Seasons
A twisted, high-tech universe where humanity's finest achievements and worst inclinations meet is explored in this latest British TV series.
Black Mirror is a British anthology series that tells stories touching a general sense of uneasiness about the current world. It can be classified as one of the best horror shows on Netflix when you observe the future advancement in the longer run.
The futuristic approach of the show makes it one of the best British shows on Netflix Australia, and you should give it a try.
IMDB Rating: 8.1/10
Director(s): Jed Mercurio
Cast: Richard Madden, Sophie Rundle, Vincent Franklin
No of Seasons: 1 Season
The series follows the lives of a bodyguard who has lately been assigned to defend the Home Secretary. He has the ability to protect his charge as a combat veteran.
The Home Secretary (HS) is an ambitious politician with opposing political ideologies. However, due to his moral conflict and professional duty to protect her, he is at odds with her as their relationship progresses.
IMDB Rating: 6.8/10
Director(s): N/A
Cast: Carey Mulligan, Nathaniel Martello-White, Hayley Squires
No of Seasons: 1 Season
Max, a LA cab driver, is about to retire after a tough day when Vincent, a sharp-suited businessman, offers him $600 to make five stops. That is until Vincent reveals himself to be a ruthless hitman, and each of those stops involves a hit.
Max begins to worry if he'll survive to see the morning as the night progresses, as the police and the FBI pursue the couple.
IMDB Rating: 7.7/10
Director(s): Phoebe Waller-Bridge
Cast: Phoebe Waller-Bridge, Jonathan Bailey, Julie Dray
No of Seasons: 1 Season
Crashing chronicles the lives of six twenty-somethings who work as property guardians at a decommissioned hospital in return for lower rent and a stringent set of rules.
Fresh emotions, cute couples, and positive energies make this show worth your time. If you are looking to enjoy a new concept, this one is for you.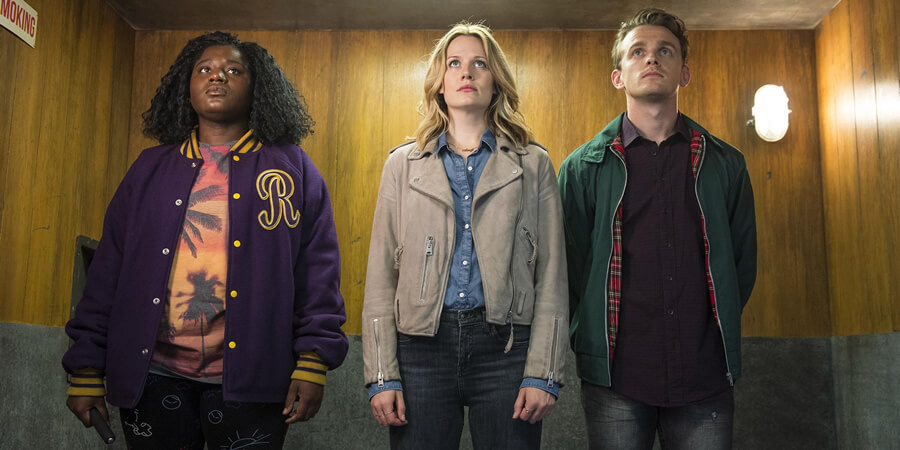 IMDB Rating: 7.3/10
Director(s): N/A
Cast: Cara Theobold, Susan Wokoma, Lewis Reeves
No of Seasons: 1 Season
Amy is up against her toughest opponent yet, Raquel. Amy and Raquel's exorcism effort draws Callum's notice as if burying your closest friend wasn't enough for one night.
He employs the soul-sucking Mercy to wipe them out, determined to end their demon-hunting before it starts.
IMDB Rating: 8.4/10
Director(s): Lisa McGee
Cast: Saoirse-Monica Jackson, Louisa Harland, Nicola Coughlan
No of Seasons: 3 Seasons
During the Troubles in Derry, Erin, her cousin Orla, their friends Clare and Michelle, and Michelle's English relative James navigate their adolescent years in a Catholic girls' high school.
The series is full of fun, sarcasm, and emotions, making it one of the best British shows on Netflix Australia.
IMDB Rating: 6.8/10
Director(s): Mark Gatiss, Steven Moffat
Cast: Claes Bang, Dolly Wells, Morfydd Clark
No of Seasons: 1 Season
From his roots in Eastern Europe to his confrontations with Van Helsing's progeny and beyond, the story chronicles Dracula. "The Count Dracula legend evolves with fresh tales that flesh out the vampire's horrific crimes—and bring his vulnerability into the light," according to Netflix's synopsis.
IMDB Rating: 6.9/10
Director(s): N/A
Cast: Dominic C. Skinner, Val Garland, Maya Jama
No of Seasons: 3 Seasons
Glow Up is focused on finding new makeup stars that can revolutionize the beauty industry. Ten makeup artists compete in various tasks, with the winner receiving a contract with a well-known makeup artist.
These aren't simply YouTubers who show you how to make the perfect smokey eye. Instead, these are MUAs who work on painting images on people's faces using makeup, creating fake gore, and other similar tasks.
13. Hinterland
IMDB Rating: 7.6/10
Director(s): N/A
Cast: Richard Harrington, Mali Harries, Alex Harries
No of Seasons: 3 Seasons
DCI Tom Mathias is sent out to investigate a mysterious disappearance on his first day at his new position in Aberystwyth. He finds a bathroom splattered in blood in a peaceful beach cottage, but no trace of the resident owner, Helen Jenkins.
DCI Mathias and DI Mared Rhys travel up into the mountains after learning that Jenkins was previously the manager of a children's home. DCI Mathias discovers that Helen was thrown from the parapet at Devil's Bridge into the river below.
IMDB Rating: 8.0/10
Directors: Tom Edge
Cast: Johnny Flynn, Antonia Thomas, Daniel Ings
No of Seasons: 3 Seasons
The show is about English friends who share a home in Glasgow's West End and their love life. After being diagnosed with chlamydia, Dylan contacts all of his former sexual partners to notify them of his condition.
The concept, plot, emotion, and confusion can give you amazing entertainment making it one of the best British shows on Netflix Australia.
IMDB Rating: 7.4/10
Directors: Hans Rosenfeldt, Nicola Larder
Cast: Anna Friel, Ray Panthaki, Jack Doolan
No of Seasons: 3 Seasons
The drama series follows a troubled police investigator who must cope with her own psychological problems, including severe blackouts, in addition to her cruel and difficult work.
She has dissociative identity disorder, which affects her work and personal life but has never been properly investigated.
16. Merlin
IMDB Rating: 7.9/10
Director(s): Johnny Capps, Julian Jones, Jake Michie
Cast: John Hurt, Colin Morgan, Bradley James
No of Seasons: 5 Seasons
This is the narrative of young Merlin, a humble servant in the royal court of Camelot, to young Prince Arthur. They became fast friends, but Merlin has a secret: he's a powerful sorcerer who must keep his magical abilities hidden even from Arthur to survive.
17. Myths & Monsters
IMDB Rating: 7.8/10
Director(s): N/A
Cast: Nicholas Day, Diane Purkiss, Liz Gloyn
No of Seasons: 1 Season
This documentary series explores the stories that have captivated audiences for ages while also revealing the interesting and surprising history behind them.
The prevalent myths in different cultures and the monstrous creatures are the focus of the series. It aims to understand the beliefs of different cultures, making it one of the best documentaries on Netflix.
IMDB Rating: 7.1/10
Director(s): N/A
Cast: Nadiya Hussain, Ravneet Gill, Nastassja Lusengo
No of Seasons: 1 Season
While eating food is simple, preparing it is not. Nadiya Jamir Hussain, who won the sixth season of 'The Great British Bake Off,' teaches everyone how to make great dishes in a short amount of time.
Cooking has become a nuisance for everyone due to stress and a lack of time, and we need to discover shortcuts to make cooking easier and less time-consuming.
As a mother and a modern woman, Nadia understands the difficulties and annoyances that come with cooking. However, she wants everyone to enjoy the process of preparing and eating food.
IMDB Rating: 8.8/10
Director(s): Steven Knight
Cast: Cillian Murphy, Sam Neill, Helen McCrory
No of Seasons: 5 Seasons
Peaky Blinders is an epic drama about an Irish Traveller or Romani criminal family set in Birmingham, England, in 1919, a few months after World War I ended in November 1918.
The plot revolves around the Peaky Blinders gang and Tommy Shelby, their ambitious and crafty boss who will do anything in their power to win.
It is one of the best crime shows on Netflix Australia, and you dare not miss it and losing out on unmatchable entertainment.
IMDB Rating: 8.3/10
Director(s): Laurie Nunn
Cast: Asa Butterfield, Gillian Anderson, Ncuti Gatwa
No of Seasons: 3 Seasons
Sex Education revolves around Otis, who is more sexually educated than any of his school peers. Later, Meave, the school's most beautiful outcast, convinces him to start his sex therapy business to earn cash.
However, Otis experiences his sexual awakening while Maeve is insecure about her true feelings for someone.
The way the series addresses different sexual experiences and relationships makes it one of the best comedy shows on Netflix.
IMDB Rating: 8.6/10
Director(s): Peter Morgan
Cast: Claire Foy, Olivia Colman, Imelda Staunton
No of Seasons: 4 Seasons
Do you want to learn more about the Royal Family? First, you must see the Netflix series "The Crown," which begins with the early years of the Queen and Prince Philip's romance.
The series is based on the play "the Audience" by Peter Morgan. As the title implies, it chronicles many events in Queen Elizabeth II's life from 1947 until her reign in the twenty-first century. It offers a fresh perspective on notable women's lives and legacies.
IMDB Rating: 8.1/10
Director(s): N/A
Cast: Jessica Barden, Alex Lawther, Steve Oram
No of Seasons: 2 Seasons
The show revolves around James, a 17-year-old who feels he is a psychopath, and Alyssa, an enraged classmate who views James as a way to escape her chaotic family life.
It is a cute story of a teenage couple who try to make their unusual relationship word despite everyday difficulties. The series is fun and easy to enjoy making it one of the best British shows on Netflix Australia.
IMDB Rating: 7.3/10
Director(s): Barry Langford, Benjamin Ross
Cast: Sean Bean, Richie Campbell, Tom Ward
No of Seasons: 2 Seasons
Inspector John Marlott, a river police officer, discovers a corpse made out of the body parts of eight missing children and sets out to find out who is to blame.
IMDB Rating: 6.0/10
Director(s): Tom Bidwell
Cast: McKell David, Thaddea Graham, Jojo Macari
No of Seasons: 1 Season
The Irregulars are the often-neglected characters from the renowned series 'Sherlock Holmes.' They do the groundwork for the famous detective and provide him with essential information related to different cases.
This time they are the focus. London is going through dark times, and there is unknown terror. Will, the team, successfully identify and defeat the terror, or will they unleash something more terrible.
They have been invisible, forgotten, but now the responsibility of solving the case is on their shoulders. Will they rise to the opportunity or lose everything they hold dear? Will Sherlock Holmes help them or take credit for their work? We will find out soon.
25. The IT Crowd
IMDB Rating: 8.5/10
Director(s): N/A
Cast: Chris O'Dowd, Richard Ayoade, Katherine Parkinson
No of Seasons: 5 Seasons
The IT Crowd revolves around different characters, such as a super-smart coder, useless at practical problems, and a relationship manager, who doesn't know anything about computers. The IT department resided in a messy basement of a corporate building, full of illiterate people about computers.
IMDB Rating: 6.6/10
Director(s): N/A
Cast: Hannah Ware, Zoë Tapper, Diarmaid Murtagh
No of Seasons: 1 Season
The show's idea is a combination of relationship drama and a futuristic murder investigation. It's a program that's both a romance drama and a murder mystery set in a futuristic world that's not all that different from our own. Your love can be identified through DNA in the future, but making that decision is difficult.
IMDB Rating: 7.6/10
Director(s): N/A
Cast: Tahar Rahim, Billy Howle, Jenna Coleman
No of Seasons: 1 Season
If you are a fan of the crime drama series with a hint of thrill and adventure, 'The Serpent' is the perfect show for you. The story revolves around the disappearance of a young couple last seen alive at the apartment of Charles Sobhraj (a gem dealer).
A Dutch diplomat is investigating the case and falling deep into the criminal pieces of evidence's lair. With the horrendous crimes, the investigator put his career at stake to unfold the crimes of Charles.
The show is a thrilling attempt focusing on the investigation's ins and outs and the cat and mouse chase of the criminal and investigator.
IMDB Rating: 5.7/10
Director(s): Kirstie Falkous, John Regier
Cast: Grace Beedie, Dakota Taylor, Jeremias Amoore
No of Seasons: 1 Season
The 'Zero Chill' trailer is centered around twin siblings; one is all about ice hockey while the other decides on figure skating. Their life appears to be quite typical till they need to move to a new location so the brother can seek his career in sports.
However, the change is a sign of a fresh start, which accompanies change issues, disdain, unforgiving words, and negative feelings towards each other. The series focuses on the unique and essential connection between the brother and the sister.
The excursion is unpredictable, and the climate is unforgiving with high feelings. Yet, you can't preclude love and regard among siblings, and this bond is too solid to even think about breaking. It is a passionate piece that will make you miss your family, and this is why it is added to the list of the best British shows on Netflix Australia.
IMDb Rating: 7.2/10
Director(s): Ben Taylor, Paul Murphy, Ben Gregor
Cast: Greg Davies,  Tyger Drew-Honey, Esther Smith
No of Seasons: 2 Seasons
The first series follows Rachel's parents (British) getting her from the airport after spending a year abroad. However, they are shocked beyond words after learning Rachael is married to Cuckoo (typical American hippie). A guy who doesn't have any ambitions has no job and is buried in drugs.
The other episodes are full of surprises, you find Cuckoo getting lost in the Himalayas, and Rachel moves on with another boyfriend. If you love family sitcoms, Cuckoo is one of the best British shows on Netflix worth watching.
30. The Duchess
IMDb Rating: 6.7/10
Director(s): Toby MacDonald
Cast: Katherine Ryan, Katy Byrne, Rory Keenan, Steen Raskopoulos
No of Seasons: 1 Season
Are you ready to have another baby? The answer could lie in this comedy. The Duchess is about a singer mother (Katherine) who does all she can to raise her only daughter in London. 
At the same time, she is in a dilemma whether to have another baby with her hostile exe. She later gets impregnated by her ex-lover Shep, the father of her first daughter. Is it the ideal relationship for her future? Watch this out on Netflix.
31. Safe
IMDb Rating: 7.2/10
Director(s): Daniel O'Hara, Julia Ford, Daniel Nettheim 
Cast: Amy James-Kelly, Michael C. Hall, Freddie Thorp
No of Seasons: 1 Season
Briton Tom, a pediatric surgeon, is going through a tough time.  As he continues grieving the loss of his wife, who died a year ago, one daughter (Jenny) goes missing. The search for her missing daughter unveils many dark secrets to those close to him.
IMDb Rating: 7.2/10
Director(s): Erik Richter Strand
Cast: Tom Bateman, Tyler Howitt, Eve Hewson
No of Seasons: 1 Season
The show follows Louise, a singer's mom, working part-time in a psychiatrist's office. The worst happens when she begins having an affair with her handsome boss (David) and initiates a relationship with his mysterious wife.
IMDb Rating: 8.0/10
Director(s): Simon Deeley, Vicky Matthews
Cast: Alisdair Simpson, Jonathon Michaels, Guy Walters
No of Seasons: 1 Season
The historical documentary portrays the life of Nazis and how they emerged in power and force during the 2nd world war. It features senior members of the Nazi Party, those in the Hitler's circle, and what befell them later. Hitler's Circle of Evil is a good series that's well presented.
IMDb Rating: 6.8/10
Director(s): Matt Lipsey
Cast: Rupert Grint, Pippa Bennett-Warner, Nick Frost
No of Seasons: 2 Seasons
When Rupert Grint is diagnosed with cancer, all seems to change. Everyone now becomes loving. His girlfriend and boss who had already dumped him became so caring. But when he later finds out it's a cancer misdiagnosis; he becomes reluctant to return to his former life.
His doctor also takes this as an opportunity to avoid being stamped as a squawk. And what follows later is a ring of lies that leads to deadly crimes. Sick Note is a dark comedy worth watching.
35. Still Game
IMDb Rating: 8.8/10
Director(s): Michael Hines
Cast: Greg Hemphill, Ford Kiernan, Paul Riley
No of Seasons: 9 Seasons
Still Game is about the lives of Victor and Jack (Scottish pensioners) in their golden years. They argue about how life was in the olden days and how things seem to have changed as they head to a pub in Glasgow.
Old men love adventures too. Still Game is a hilarious piece and considered one of the biggest hits among the British shows on Netflix Australia.
IMDB Rating: 8.4/10
Director(s): Ronan Bennett
Cast: Ashley Walters, kano, shone Romulus 
No of Seasons: 5 Seasons
Premised in East London, the show revolves around the openly operating drug gangs and the non-criminal residents of the area. With criminal activities rampant in the area, tensions brew between the drug dealers and the citizens.
The show explores the themes of social realities, gang activities, and human empathy through the interlinked stories of Dushane, an ambitious drug dealer, and Ra'Nell, a teenager forced to come to terms with situations beyond his years. 
IMDB Rating: 7.4/10
Director(s): Vicki Lutas, Anna McCleery
Cast: Freddy carter, jaylon Barron, Manpreet Bambara
No of Seasons: 3 Seasons
15-year old Zoe goes to an island off the coast of the U.K to spend her summers, and this was where her mother used to live.
On the island, Zoe met a unique and beautiful horse, they both shared a bond, but this band couldn't be at peace as Zoe had to face the troubles of boys and horse thieves.
IMDB Rating: 8.1/10
Director(s): Ricky Gervais
Cast: Ricky Gervais, Kerry Godliman, David Earl
No of Seasons: 3 Seasons
Derek, a somewhat mentally challenged guy, works at a nursing home as an assistant, caring for the elderly. Derek tries to smile at everyone's face while his co-workers face prejudice and shrinking budgets.
Derek is one of the greatest British shows on Netflix Australia as it has a high IMDB score and is the nicest series you can watch, sure to bring a smile to your face.
IMDB Rating: 6.2/10
Director(s): Bryan Elsley
Cast: Tallulah Haddon, Simona Brown, Matthew beard
No of Seasons: 1 Season
A lonely video game addict who enters a new online world and befriends a person opposite to her traits but unravels a dark secret about her virtual world after the sudden disappearance of a player, her real journey begins now.
IMDB Rating: 7.4/10 
Director(s): Hugo blick
Cast: John Goodman, Michael Coel, Noma Duweznemi
No of Seasons: 1 Season
Kate Ashby, a rescued child from the horrific aftermath of the Rwandan genocide, was adopted and brought up by a world-class international human rights lawyer.
After Kate's adoptive mother took on a case involving the prosecution of a controversial militia leader, The relationship between Kate and her adoptive mother is now on the verge of breaking because the accused man who once fought to end the genocide was now being held accountable for the terror attacks. 
IMDB Rating: 7.2/10
Director(s): NA
Cast: Alexander Armstrong, Kevin Eldon, Dave lamb
No of Seasons: 2 Seasons
Danger Mouse, the self-proclaimed 'greatest secret agent in the world,' fights to protect the world from his evil nemesis Baron Silas von Greenback.
Alongside his sidekick, Penfold, Danger Mouse, and his hamster Penfold fight multiple dangers with their boss Colonel K and the inventions of genius scientist Professor Squawkencluck.
Danger Mouse is one of the best animated British shows on Netflix Australia and is seen worldwide as it inspires kids to make the world a better and safer place. 
42. Bad Education
IMDB Rating: 7.4/10
Director(s): NA
Cast: Jack Binstead, Matthew Horne, Ethan Lawrence, Jack Whitehall 
No of Seasons: 3 Seasons
Alfie wickers is a posh, newly graduated high school history teacher at the fictional abbey grove school, and it turns out that he is a bigger kid than those he teaches.
Alfie tries everything to look cool to impress his crush, such as coaching a football team and fielding a candidate for school elections. For all the help, he turns to his class, specifically the class pet joe, even though the class has open disgust and disrespect for him.
At the same time, he finds himself having to deal with the shenanigans of his eccentric headmaster and meet the expectations of his headmistress. 
43. Doc Martin
IMDB Rating: 8.4/10
Director(s): Dominic Minghella
Cast: Martin Clunes, Caroline Catz, Ian MacNeice
No of Seasons: 8 Seasons
Dr. Martin Ellingham, a surgeon based in London, leaves his well-paid job and life due to a phobia against blood.
He relocates himself at the picturesque seaside village of PortWenn, where he establishes himself as a general practitioner and becomes the only doctor of the sleepy town he once grew up in. he soon gets to meet many of the locals, and eccentricity abounds.
Martin's situation worsens as he becomes more gruff, abrupt, and intolerant towards medicine and his daily life. But despite his manners, he and the headmistress of a local school develop a liking towards each other. 
44. Flowers
IMDB Rating: 8.1/10
Director(s): Will Sharpe
Cast: Sophia di martino, Olivia colman, Jullian barratt 
No of Seasons: 2 Seasons
The flower family has found themselves struggling to keep their relationship together. Maurice and his wife, who were barely together, are now on the verge of divorcing. Maurice, the author of the twisted children's book, 'the Grubbs.
As Maurice tries to fight his inner demons, his wife suspects him of having an affair with his Japanese illustrator. The flower family lives in a crippling house with Maurice's mother and their 25-year-old twins, who are in a battle against themselves to see who can get the affection of their attractive neighbor.  
IMDB Rating: 8.8/10
Director(s): Ian MacNaughton, John Howard davies
Cast: Graham Chapman, John Cleese, Terry Gilliam
No of Seasons: 4 Seasons
The Monty Python comedy troupe presents a mass array of skits that can often be surreal, uncompromising, bawdy, but surely to make you laugh as there almost always hilarious. 
Closing
Though you can watch anything and everything on Netflix Australia, including comedy, thriller, horror shows, suspense, horror movies, cartoon, anime, romance, cooking shows, sci-fi, reality, emotional drama, and documentaries – you cannot resist these British shows.
With our list of the best British shows on Netflix Australia, you can fill your British accent for months. So grab some snacks, Happy Streaming!