There is no shortage of entertaining content on Netflix, which is why it is considered the best streaming service. The must-watch Netflix titles can keep the users entertained for years.
The best thing about mystery movies is that you feel involved. You feel as if you are part of the cast. Don't be surprised to find yourself screaming as you try to warn one of the casts of the danger ahead. We get emotionally involved with the cast and all that is happening in the movie.
It's an amazing experience watching a suspense movie. Thanks to Netflix for making sure that it's well-stocked with this genre. To find the best titles, just scroll down below for the best mystery movies on Netflix in Australia.
40 Best Mystery Movies on Netflix in Australia [January 2022]
1. In The Shadow of the Moon
Director: Jim Mickle
Writers: Gregory Weidman, Geoffrey Tock
Cast: Boyd Holbrook, Cleopatra Coleman, Bokeem Woodbine
IMDB Rating: 6.2/10
In 1988, a police officer in Philadelphia became obsessed with a series of murders that seemed to defy all explanations.
Thomas Lockhart is eager to become a detective, and so he starts hunting down a serial killer who mysteriously reappears after nine years.
Locke's hard work and determination to find the truth about the serial killer come at a cost. His obsession has put everything he has on the line, including his career and family making it one of the best horror mysteries to watch on Netflix in Australia.
2. The Woman in the Window (2021)
Director: Joe Wright
Writers: Tracy Letts, A.J. Finn
Cast: Amy Adams, Gary Oldman, Anthony Mackie, Fred Hechinger
IMDB Rating: 5.7/10
Being agoraphobic, Anna has to stay housebound alone in Manhattan. She finds comfort sitting by her window spying on her neighbors. Unfortunately, she witnesses a murder in one of the neighbors' houses during the night.
The police don't believe her. The killer starts spying on her and even threatens to kill her. She reports a second time but still gets ignored due to her condition. Finding out the truth about the killer's identity, she now gets hunted in her house.
3. Unknown (2011)
Director: Jaume Collet-Serra
Writers: Oliver Butcher, Stephen Cornwell, Didier Van Cauwelaert
Cast: Liam Neeson, Diane Kruger, January Jones, Aidan Quinn
IMDB Rating: 6.8/10
Following a deadly car accident, a scientist, Martin Harris, develops a gap in his memory. Waking up for days after a comma, he tries to get his life together but finds someone has already impersonated him. His wife denies him.
He now has to team up with a detective and a sketchy guy to reclaim his life. But, in all his actions, he has to watch his back from the killers who are after him. The movie is one of the best classic mystery movies to watch on Netflix in Australia.
4. The Forest (2016)
Director: Jason Zada
Writers: Nick Antosca, Sarah Cornwell, Ben Ketai
Cast: Natalie Dormer, Eoin Macken, Stephanie Vogt, Osamu Tanpopo
IMDB Rating: 4.8/10
Sara decides to travel to Japan to look for her twin sister, who allegedly got lost in the Aokigahara forest. However, the forest kills everyone who ventures it, and many advise her against the idea.
With a guide and a reporter, Sara goes into the forest in search of her sister. During the night, she tries to trace a young girl who turns her against the tour guide. The mystery of the forest and Sara's hallucinations make the plot very interesting.
5. The Legacy of the Bones (2019)
Director: Fernando González Molina
Writers: Luiso Berdejo, Dolores Redondo
Cast: Marta Etura, Nene, Leonardo Sbaraglia, Francesc Orella
IMDB Rating: 6.3/10
The movie starts as an ongoing case is interrupted after cell guards find the accused dead by his hand. Inspector Amaia goes into labor shortly after and is back to a more challenging case four months later.
Her superior presents her with two murder cases which she is to investigate privately. The findings from the case get strange by the day. They unfold cults and the same style of killings. Her life gets endangered each day as she digs deep for the truth.
6. Self/less (2015)
Director: Tarsem Singh
Writers: Àlex Pastor, David Pastor
Cast: Ryan Reynolds, Natalie Martinez, Matthew Goode, Ben Kingsley
IMDB Rating: 6.5/10
Nearing his death from cancer, 68-year-old real estate tycoon Damian Hale accepts a procedure where his brain gets another host. After the operation, the new Damian has to take medication daily.
One day he misses the dose, and strange things start unfolding, causing him to question the legitimacy of the procedure and the company. Young Damian questions Albright, the mastermind of the operation, and tables turn against the young body.
Self/less is still one of the best mystery movies on Netflix in Australia.
7. Mute (2018)
Director: Duncan Jones
Writers: Michael Robert Johnson, Duncan Jones
Cast: Alexander Skarsgård, Paul Rudd, Justin Theroux, Levi Eisenblatter
IMDB Rating: 5.5/10
Leo, a bartender in Berlin, finds himself in the middle of unfolding a black-market organ trafficking group. Mute from a childhood accident, Leo gets looked down upon, but Naadirah, a cocktail waitress, loves him.
Leo gets into a beef with a rowdy customer who harasses Naadirah, and their fight costs him his job. Now Naadirah is untraceable, and he starts connecting links in search of her. He has to overcome the many mysterious obstacles before he is heartbroken.
8. Mirage (2018)
Director: Oriol Paulo
Writers: Oriol Paulo, Lara Sendim
Cast: Adriana Ugarte, Chino Darín, Javier Gutiérrez, Alvaro Morte
IMDB Rating: 7.4/10
In the middle of a storm in 1989, a young boy, Nico, witnesses murder in their neighbor's house. He goes to confirm and gets realized by the murderer. Fleeing, he gets hit by a car escaping and dies.
Thirty years later, Vera's new house owner gets connected to two timelines due to contact with the house's prior belongings in the present storm.
First, she witnessed what happened on the night Nico died and now works with a detective to get justice before the storm is over.
9. Before I Fall (2017)
Director: Ry Russo-Young
Writers: Maria Maggenti, Lauren Oliver
Cast: Zoey Deutch, Halston Sage, Cynthy Wu, Medalion Rahimi
IMDB Rating: 6.5/10
On Cupid's Day, Sam has quite a day planned but does not know it will be her last. On the final event of the day, Sam and her friends crash and die. Surprisingly, she awakes in the next scene, in a time loop.
Reliving the same day, she gets reckless and tries out almost everything until she tires. She also discovers the deep secrets of her friends. Now she has to focus and figure out how to end the time loop.
10. The Last Thing He Wanted
Director: Dee Rees
Writers: Marco Villalobos, Dee Rees, Joan Didion
Cast: Anne Hathaway, Ben Affleck, Rosie Perez, Willem Dafoe
IMDB Rating: 4.3/10
With her highlighted reporting career shut down from the higher powers, she gets downgraded to covering campaigns and elections. She dwells on the "boring" position until her dying father asks her to deal with Epperson.
With something to work for, she devotes her time to fulfilling her father's dying wish. But, unfortunately, she uncovers government secrets in her follow-ups which put her in danger. Nevertheless, she dwells on the investigation even though she is in fear for her life.
11. The Night Clerk (2020)
Director: Michael Cristofer
Writer: Michael Cristofer
Cast: Tye Sheridan, Ana de Armas, Helen Hunt, John Leguizamo
IMDB Rating: 5.6/10
Referring to himself as an Aspie, Bart, a young guy on the autism spectrum works as a night clerk. His struggles to fit in with others get depicted in the movie. However, tables turn when a murder occurs during his shift, and he is tagged the prime suspect.
Bart has a friend who understands him but is a lady among the guests. With the actual murderer on the loose, Bart has to stop him before Andrea, who he loves, becomes the next victim.
12. Enola Holmes (2020)
Director: Harry Bradbeer
Writers: Jack Thorne, Nancy Springer, Arthur Conan Doyle
Cast: Millie Bobby Brown, Henry Cavill, Sam Claflin, Louis Patridge, Helena Bonham
IMDB Rating: 6.6/10
Earning a spot as one of the best classic mystery movies to watch on Netflix in Australia, the story revolves around 1884 in England. Enola Holmes is abandoned by her mother, leaving her two elder brothers to decide her future, which she opposes when she learns what it entails.
She flees to London in search of her mother, but her journey leads to an involvement with an ongoing mystery concerning a young runaway Lord. She now has to unwind the lurking conspiracy that threatens to set back the excellent course of history.
13. The Whole Truth (2016)
Director: Courtney Hunt
Writer: Nicholas Kazan
Cast: Keanu Reeves, Renée Zellweger, Gugu Mbatha-Raw, Gabriel Basso
IMDB Rating: 6.2/10
Mike gets charged with murdering his father, Boone Lassiter. He had already pleaded guilty, but the evidence presented about the character of his late father has the court questioning the confession.
Richard, a defense attorney, takes on the case personally and swears to Loretta, Mike's mother, that he will keep Mike out of prison.
However, Janelle, Richard's colleague who has been digging deep into the murder case, unveils the whole truth as something only she can uncover.
14. Cam (2018)
Director: Daniel Goldhaber
Writers: Isa Mazzei, Daniel Goldhaber, Isabelle Link-Levy
Cast: Madeline Brewer, Patch Darragh, Melora Walters, Devin Druid
IMDB Rating: 5.9/10
The storyline revolves around a camgirl who wakes up to an astonishing morning. Unfortunately, her channel gets hijacked by a replica of herself who is determined to ruin her. The identity thief pushes the sexual envelope on the channels to more than extreme.
The doppelganger haunts the camgirl's life in a possibly supernatural way putting her through shame and mystery. The plot unfolds more mystery and horror as it plays on. Will she recover her channel?
15. The Invisible Guest (2016)
Director: Oriol Paulo
Writers: Oriol Paulo, Lara Sendim
Cast: Mario Casas, Ana Wagener, Jose Coronado, Barbara Lennie
IMDB Rating: 8.1/10
The plot involves a riddle-like murder case that has to be solved to avoid the apprehension of a wealthy entrepreneur. It stands out as one of the best murder mystery movies on Netflix in Australia.
Adrian gets charged with the murder of his lover, whose body lies by his side. He now has to work with an expert lawyer to save his skin and keep him away from jail. They have to dig deep to clear an already dark past with only the truth.
16. The Happytime Murders (2018)
Director: Brian Henson
Writers: Todd Berger, Dee Austin Robertson
Cast: Melissa McCarthy, Elizabeth Banks, Maya Rudolph, Leslie David Baker
IMDB Rating: 5.4/10
The film starts by explaining a world where puppets co-exist with humans, despite being viewed as second-class citizens. Then, a sadistic killer begins to target and murder, one by one, the cast of a children's TV show of the 90s.
The first puppet detective, now a private investigator, takes up the case teaming up with his former human partner despite their prior misunderstanding. But unfortunately, the killing continues anyway, and they have to work their breaths off to get the killer before more drop dead.
17. The Witch: Part 1 – The Subversion (2018)
Director: Park Hoon-jung
Writer: Park Hoon-jung
Cast: Kim Da-Mi, Min-soo Jo, Woo-sik Choi, Go Min-Si
IMDB Rating: 7.2/10
Ja-yoon, as a young girl, escapes from a government facility that held her captive. She is spotlighted in the media ten years later on a televised competition trying to win money for her family.
Faces from her mysterious past, which she can't recall due to her amnesia, show up and wreak havoc. She now tries to uncover her dark history to know why she gets targeted, and what she finds out will have you thrilled.
18. Forensic (2020)
Directors: Anas Khan, Akhil Paul
Writers: Anas Khan, Akhil Paul, P. Shijith
Cast: Tovino Thomas, Mamta Mohandas, Saiju Kurup, Reba Monica John
IMDB Rating: 6.8/10
As ironic as it may sound, the storyline shows a child psychologist being psychopathic and alarming the justice system with the many deaths of children. Samuel, a medico-legal advisor, is deployed to investigate and catch the killer.
Samuel's sister-in-law, who has every reason to believe that the now identified killer is after her family, leads the investigation. The team, therefore, has to get him before he hunts them down. But, will this mystery man be apprehended before more damage?
19. Svaha: The Sixth Finger (2019)
Director: Jae-hyun Jang
Writers: Kang Full, Jae-hyun Jang
Cast: Lee Jung-jae, Yoon Kyung-ho, Yoo Ji-Tae, Jeong Min Park
IMDB Rating: 6.3/10
Plotted on a cult and religion saga, a pastor gets deployed to reveal a suspicious cult known as Deer Mount. A police captain named Hwang also works in a murder case where the evidence leads him to this mysterious cult.
Pastor Peter asks for help from his monk friend to unfold the religious conspiracy at hand. Hwang's victim is a little girl whose body was found following a tunnel accident. Now the duo works to unfold the harrowing implication the cult has on its followers.
20. Twin Murders: The Silence of the White City (2019)
Director: Daniel Calparsoro
Writers: Roger Danès, Eva García Sáenz de Urturi, Alfred Pérez Fargas
Cast: Belén Rueda, Javier Rey, Aura Garrido, Manolo Solo
IMDB Rating: 5.2/10
Unai, an expert criminal profiler, returns to work with his arrival matching an apparitional twin murder in the city. Unfortunately, the case is identical to one that occurred 20 years past, and they get convinced they arrested the wrong person back then.
Unai goes to jail to interview the man arrested for the old identical murder case. Still, on his search, Unai gets an anonymous message from the killer via the internet. The plot follows a mystical path as they try to unfold the truth.
21. The Clovehitch Killer (2019)
Director: Duncan Skiles
Writer: Christopher Ford
Cast: Dylan McDermott, Charlie Plummer, Samantha Mathis, Madisen Beaty
IMDB Rating: 6.6/10
Tyler Burnside's life is the ideal American life he'd dream of. He volunteers at his local church and is the responsible son of his respected father. However, his discovery changes his perspective of life and puts him in great danger.
Over a decade ago, the unsolved murder cases of women tortured and killed in his town are now dug up following the astonishing images he stumbles upon. The photos are enough to suggest that his father is the masked Clove Hitch killer.
22. Lost Girls (2020)
Director: Liz Garbus
Writers: Robert Kolker, Michael Werwie
Cast: Amy Ryan, Thomasin McKenzie, Gabriel Byrn, Lola Kirke
IMDB Rating: 6.1/10
The movie, still among the best mystery movies to watch on Netflix in Australia right now, is inspired by the true events of a mystery novel by Robert Kolker. The investigation gets triggered by the sudden disappearance of Mari Gilbert's only daughter.
The officer sets on a mission to look for her daughter, starting from where she was last spotted. The investigation uncovers more murders occurring in the gated Long Island. Finally, her mystical discoveries get brought to light for the public.
23. Strange But True (2019)
Director: Rowan Athale
Writers: Eric Garcia, John Searles
Cast: Nick Robinson, Amy Ryan, Greg Kinnear, Brian Cox, Blythe Danner
IMDB Rating: 5.9/10
Five years after Ronnie dies in an accident, his last girlfriend knocks on his family's door to announce that she is carrying his child. This is hard to believe, but Melissa is convinced as she has not gotten involved with any man since Ronnie.
The mystery has to be unsolved as nothing adds up. Gail's discovery about the old couple who had adopted Melissa is the only lead to the truth. This is despite Ronnie's family had already accepted the child to be born.
24. Secret Obsession (2019)
Director: Peter Sullivan
Writers: Kraig Wenman, Peter Sullivan
Cast: Brenda Song, Mike Vogel, Dennis Haysbert, Ashley Scott
IMDB Rating: 4.4/10
The storyline features the mysterious extent an obsessed psychopath goes to get Jennifer to be his. She gets hit by a car while she flees a man seeking to kill her. She wakes up with no memory.
Her memory faintly comes back, and she realizes that her new life is set up with every memory. Paige, a detective on the case, almost joins the dots but the psychopath, Jennifer's new husband, knocks her out. A chain of murders unfolds as the investigation continues.
25. The Scary House (2020)
Director: Daniel Prochaska
Writers: Marcel Kawentel, Timo Lombeck, Martina Wildner
Cast: Lizbeth Eden, Marii Weichsler, Julia Koschitz, Leon Orlandianyi
IMDB Rating: 5.4/10
A sixteen-year-old boy named Hendrik is angry at his mother's decision to move to a village in the south of Austria. But, unfortunately, he has no stake in the decision. Instead, the villagers shun the house to reach the village since a mother killed her two sons.
Hendrik ascertains the claims when his little brother starts curving out strange symbols on the wall in his sleep-walk. Now he sets off to investigate the secret behind this haunted house.
26. Frank & Lola (2016)
Director: Matthew Ross
Writer: Matthew Ross
Cast: Michael Shannon, Imogen Poots, Justin Long, Rosanna Arquette
IMDB Rating: 5.9/10
Frank, a chef in Las Vegas, meets and falls in love with a puzzling young and beautiful fashion designer. They build an intense relationship, but Lola destroys it when she suddenly cheats on him.
Frank now mistrusts Lola, turning him into a psychosexual beast who digs up Lola's past and gets obsessed with an imposing man from her past. The movie turns out to be one of the best mystery movies on Netflix in Australia as Frank unfolds secrets about Lola.
27. Kill the Messenger (2014)
Director: Michael Cuesta
Writers: Peter Landesman, Gary Webb, Nick Schou
Cast: Jeremy Renner, Robert Patrick, Jena Sims, Robert Pralgo
IMDB Rating: 6.9/10
The plot bases its plot on the true story of one of the writers, Garry Webb. Webb is tipped-off on an illegal CIA operation involving cocaine trafficking and the exchange of firearms. The CIA allow the Nicaraguan Contras, who need the money in their rebellion army, to deal cocaine and arms into the American Ghettos.
Garry has to decide whether to go public with his discovery and, in choosing so, leaves himself, his family, and his integrity fighting for survival.
28. Time Trap (2017)
Directors: Mark Dennis, Ben Foster
Writer: Mark Dennis,
Cast: Reiley McClendon, Cassidy Gifford, Brianne Howey, Olivia Draguicevich
IMDB Rating: 6.3/10
On a mission to look for their favorite archaeology professor, a group of students heads to a remote area of Texas where they believe he is. Instead, they discover his car and a rope leading to a covered cave nearby.
With their youthful optimism, they follow him in with their hiking gear leaving one behind as backup. However, their discoveries in the cave, one being a space-time continuum, get mysterious as they move down the cave. Will they find their professor?
29. The Soul (2021)
Director: Wei-Hao Cheng
Writers: Wei-Hao Cheng, Bo Jiang
Cast: Chang Chen, Janine Chun-Ning Chang, Anke Sun, Christopher Ming-Shun Lee
IMDB Rating: 6.6/10
The Soul stands out as one of the best mystery movies to watch on Netflix in Australia right now. The chairman of a corporation developing a cancer treatment gets murdered brutally. The prosecutor of his case suffers the illness that the corporation intended to cure and volunteers to head the investigation.
Assisted by his wife, a pregnant police officer, he begins to unravel the mystery behind the murder of the chairman. What they discover after interviewing the quite unusual family is astonishing.
30. Await Further Instructions (2018)
Director: Johnny Kevorkian
Writer: Gavin Williams
Cast: Sam Gittins, Neerja Naik, Abigail Cruttenden,
IMDB Rating: 4.8/10
The plot is around the Christmas period. A family awakes to find a mysterious black substance surrounding their house. Not knowing what is happening outside, they turn on their television to get clues or answer their questions.
On the television screen is a glowing message, "Stay Indoors and Await Further Instructions." The plot follows the unveiling of the situation outside the black restricting substance. A probably unseen bloody carnage ensues in the story. What is the mysterious event past the line?
31. The Lovebirds (2020)
Director: Michael Showalter
Writers: Aaron Abrams, Brendan Gall, Martin Gero
Cast: Issa Rae, Kumail Nanjiani, Paul Sparks, Anna Camp
IMDB Rating: 6.1/10
Jibran and Leilani kick off a happy love story. Following misunderstandings, the couple is on the verge of separation when they get unintentionally entangled in a strange murder mystery. They take off to find the killer in a bid to clear their names.
With the staggering relationship, they struggle to solve their differences as they battle for their freedom. How will the couple track down the killer and free themselves while saving their relationship?
32. Murder Mystery (2019)
Director: Kyle Newacheck
Writer: James Vanderbilt
Cast: Adam Sandler, Jennifer Aniston, Luke Evans, Terence Stamp
IMDB Rating: 6.0/10
The movie goes down as one of the best mystery action movies on Netflix in Australia. On their European vacation, officer Nick Spitz and his wife Audrey abandon their low-budget plans to attend a yacht party Charles invites them.
Malcolm Quince, the elderly billionaire who owns the yacht, is shot dead, and the couple gets branded as the main suspects. Now they have to solve the mysterious murder to save their skins.
This murder mystery with the same name is not a psychological thriller like Sherlock Holmes but a simple story of a young woman making it one of the best mysteries.
33. The Guest (2014)
Director: Adam Wingard
Writer: Adam Wingard
Cast: Dan Stevens, Sheila Kelley, Maika Monroe, Joel David Moore
IMDB Rating: 6.7/10
An unknown person, who shows up in the Peterson family, claims to have been a friend to their late son Caleb who died in Afghanistan. The guy branded as David helps out the Peterson kids on everyday youthful struggles, and they almost trust him.
After Anne connects him on where to acquire guns, he kills the sellers causing alarm, and Anne calls in a private army corporation. Unfortunately, massive killings have occurred by the time they come in, and only Anne and David are alive.
34. Haseen Dillruba (2021)
Director: Vinil Mathew
Writer: Kanika Dhillon
Cast: Taapsee Pannu, Vikrant Massey, Harshvardhan Rane,
IMDB Rating: 6.9/10
The movie is one of the best mystery movies to watch on Netflix in Australia right now. Its plot starts when Rishu and Rani get married following the customary Indian rituals. However, after finding out they are not a match, Rani cheats on Rishu with his cousin Neil who then dumps her.
An evil side of Rishu awakens after finding out, and he treats Rani violently. An explosion in their house kills Rishu and Rani is the main suspect of this saga.
35. Midnight Special (2016)
Director: Jeff Nichols
Writer: Jeff Nichols
Cast: Michael Shannon, Joel Edgerton, Kirsten Dunst, Adam Driver
IMDB Rating: 6.6/10
The government and a Waco-like cult are pursuing a boy by the name of Alton Meyer. They are all interested in the boy's peculiar powers. The boy's father will do everything in his power to save his kid.
Alton has to be kept in the dark to survive and wear dedicated darkened swim goggles. Nevertheless, the trio intends to keep up the chase until a looming date believed to hold a destiny that could change everything.
36. The Girl on the Train (2016)
Director: Tate Taylor
Writers: Erin Cressida Wilson, Paula Hawkins
Cast: Emily Blunt, Haley Bennett, Rebecca Ferguson, Justin Theroux
IMDB Rating: 6.5/10
The plot centers on Rachel's life after her divorce. First, she sees her ex-husband's house every time she travels to work by train, worsening her heartbreak. Then, she shifts focus to another couple, Megan and Scott Hipwell, and watches them daily.
One day she notices something on the route that enrages her. She then wakes up bruised without any memory of the previous day. On TV, a highlight brands Megan as missing. Rachel has to find Megan while figuring out where she was the previous day.
37. Death Note (2017)
Director: Adam Wingard
Writers: Charley Parlapanides, Vlas Parlapanides, Jeremy Slater
Cast: Nat Wolff, LaKeith Stanfield, Margaret Qualley, Shea Whigham
IMDB Rating: 4.4/10
The plot bases its origin on a Japanese comic involving a book with the power to kill anyone whose name gets written on it. A high school student stumbles across the book and, realizing its power sets off on a mission to end the world of criminals.
The boy gets branded as a vigilante, and a detective investigating the sudden deaths in the city pursues him. But, will Light Turner give up the book?
38. Buster's Mal Heart (2016)
Director: Sarah Adina Smith
Writer: Sarah Adina Smith
Cast: Rami Malek, DJ Qualls, Kate Lyn Sheil, Sukha Belle Potter
IMDB Rating: 6.2/10
Jonah, who formerly worked as a night shift concierge in a hotel, has an unexpected encounter with Brown, which mysteriously changes his life. The encounter leaves him with disturbing memories of his former life as a family man and visions of being lost at sea.
The former family man survives the winter while being hunted by the authorities. He busts into vacation houses to hide from the police. He gets branded as "buster" when reports about him get aired on Radio.
39. Crimson Peak (2015)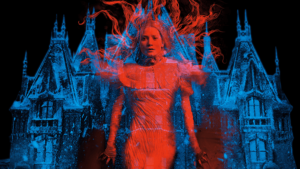 Director: Guillermo del Toro
Writers: Guillermo del Toro, Matthew Robbins
Cast: Mia Wasikowska, Jessica Chastain, Tom Hiddleston, Charlie Hunnam
IMDB Rating: 6.5/10
A ghost of her demised mother warns her to beware of Crimson Peak, but she does not heed the warning. Instead, two Italian siblings, Thomas and Lucille, ask Edith's father – Carter, to invest in their clay machine. Thomas also ignites a relationship with Edith.
Carter gets a detective to dig up on the siblings, and dark secrets get unraveled. Carter gets brutally murdered after disagreeing with the request and the relationship. Edith marries Thomas ignoring her mother's ghost warning, which does not end well for her.
40. The Discovery (2017)
Director: Charlie McDowell
Writers: Charlie McDowell, Justin Lader,
Cast: Robert Redford, Mary Steenburgen, Brian McCarthy, Jason Segel
IMDB Rating: 6.3/10
Following a great discovery of the existence of the afterlife by scientist Thomas Harbor, there is a massive wave of suicides. His son, Will, is not convinced by the discovery. However, when he visits his father in his estate, he meets Isla, with whom they grow close.
He saves her from suicide and takes her into his father's estate. Thomas now has a machine that he claims can show a person's life in the afterlife, but it fails. Thomas tries it on himself and is on the verge of dying making it one of the top titles of the horror genre.
Conclusion
Though you can watch anything and everything on Netflix, including comedy, thriller, horror shows, Halloween movies, suspense, horror movies, classic, cartoon, action, romance, cooking shows, sci-fi, reality, kid movies, emotional drama, Marvel shows, and documentaries – its time to enjoy the best mystery movies on Netflix in Australia.
Some of the best mystery titles include American murder, dragon tattoo, blackcoat's daughter, murder mystery, Blair witch project, buster's mal heart, sex workers massacre, clovehitch killer, Enola Holmes, invisible guest, lost girls 2020, masked killer, pretty thing that lives in the house, sacred deer, sex worker dilemma, Sherlock Holmes, shutter island, stranger things
Mystery movies are worth our time being the entertaining genre they are. Our list has a collection of the best ones of all time you might have missed, or you should take time to watch. In addition, the catalog entails some of the best mystery movies to watch on Netflix in Australia.