When all of us are confined to our houses, we all need to laugh the stress off. What can be a better way to do it than watching a comedy movie that can leave you in stitches. To bring happiness and laughter to your lives, we have compiled a list of the best comedy movies on Netflix.
Though these selections are only available on Australian Netflix, we came up with the perfect solution for this issue. With our tried and tested of the best Netflix VPNs, you can access Netflix Australian from anywhere. All you need to do is to connect to the Australian server of the recommended VPNs.
As all of us need a healthy dose of fun and laughter, let's dive into the list of best comedies. A word of advice, watch it with the company you like, and you will get an extra dose of fun and share the laughter with your loved ones.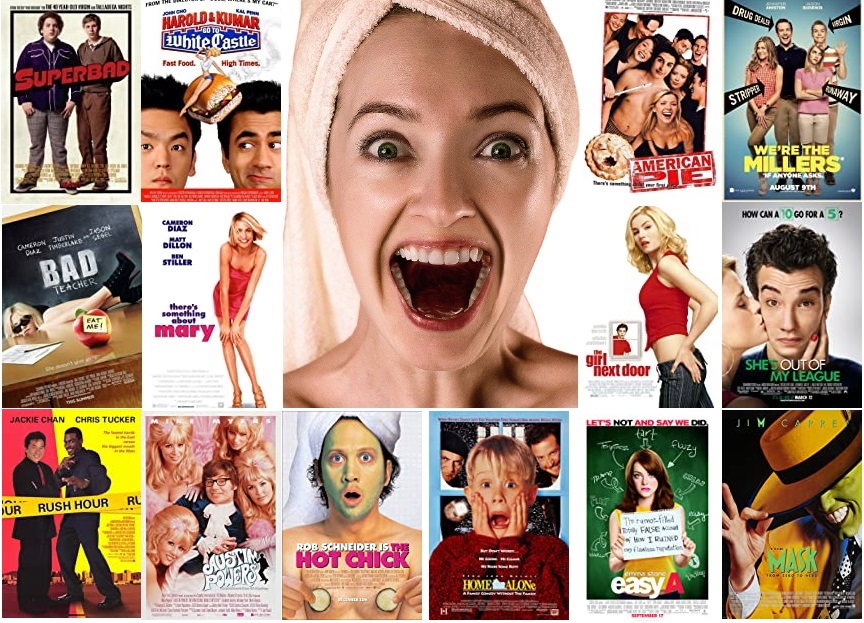 1. Airplane!
This parody comedy pokes fun at the rash of catastrophe films that came out in the 1970s. When a jet's passengers and crew become ill from food poisoning, a rogue pilot with a drinking problem must work with his ex-girlfriend turned stewardess to land the plane safely.
2. Bad Eggs
Two elite Melbourne Police officers are relegated to uniformed duty after the bizarre death of a magistrate on the front page of the local daily. As they examine the accident, a connection to a shady gambling mogul reveals their colleagues' dishonesty.
3. The 40-Year-Old Virgin
Andy Stitzer works at a big-box retailer and is a pleasant single man. Andy, who lives alone, spends his leisure time playing video games and organising his action figure collection.
Despite his age, Andy has never had sex, and his pals, notably the laid-back David, encourage him to do so. Andy meets local store owner Trish while striving to overcome his shyness with female customers, and the two begin a cautious romance.
The awkwardness, budding romance, and funny confusions make it one of the best comedy movies on Netflix Australia, so you should give it a try to unlimited laughter.
4. Step Brothers
Brennan Huff and Dale Doback have one thing in common: they're both slackers who live with their parents. The growing boys' world is turned upside down when Brennan's mother marries and moves in with Dale's father.
The new family is torn apart by their crazy competition and selfishness, compelling them to work together to reconnect their parents, making it one of the best comedy movies on Netflix.
5. Bridesmaids
Annie is a single woman whose own life is a shambles, but she has no option but to act as the maid of honour when she discovers that her lifelong best friend, Lillian, is engaged.
Annie threads her way through the odd and expensive traditions linked with her employment as the bride's go-to gal while being lovelorn and practically destitute.
She eagerly takes Lillian and the other bridesmaids along the winding road to the wedding, determined to perfect everything.
6. Booksmart
Overachievers in school Amy and Molly believed that sticking their noses to the grindstone provided them with an advantage over their contemporaries in high school. However, on the eve of graduation, the best friends discover that they may have missed out on some of the most memorable events of their adolescence.
The girls resolve to make up for the lost time by cramming four years of not-to-be-missed pleasure into one night, a wild adventure for which no amount of book smarts could prepare them.
7. The Hitman's Bodyguard
The world's top protection agent is tasked with protecting the life of one of the world's most infamous hit guys, his deadliest enemy. For years, the ruthless bodyguard and the manipulative assassin have been on opposite sides of the bullet, and now they're forced together for a crazy 24 hours.
They experience high-speed vehicle chases, bizarre boat excursions, and a cruel Eastern European tyrant out for blood on their voyage from England to the Hague.
8. Men In Black
They are the universe's best-kept secret. Kay and Jay are the Men in Black, suppliers of immigration services and regulators of all things foreign on Earth, working for a well-funded but unofficial government organisation.
The MIB agents uncover the deadly scheme of an intergalactic terrorist on a mission to murder two ambassadors from opposing universes who are now in residence in New York City while investigating a series of unregistered near encounters.
9. Paddington
After a devastating earthquake destroys his habitat in the Peruvian rainforest, a young bear travels to England to quest a new home. The bear, called "Paddington" after the London railway station, seeks refuge with Henry and Mary Brown's family.
Although Paddington's fascination with city life quickly endears him to the Browns, taxidermist Millicent Clyde has her sights set on the unusual bear and his hide.
10. Forgetting Sarah Marshall
Peter Bretter, a struggling musician, is better known as the lover of TV actress Sarah Marshall. He feels confused and alone when she dumps him, so he makes a last-ditch attempt to get over it by travelling to Hawaii.
She and her new lover, on the other hand, are staying in the same hotel, so it is up to Peter to make her jealous by pretending to be happy. The confusion and funny incidents make it one of the best comedy movies on Netflix.
11. About Time
Tim Lake's father reveals a family secret to him when he is 21 years old: the males in their family have the ability to travel across time. Tim intends to better his life by finding a girlfriend, even though he cannot undo history.
He meets Mary, falls in love with her, and then uses time travel and a little deception to win her heart. However, he discovers that his exceptional talent cannot protect him or those he loves from the challenges of everyday life.
12. As Good as it Gets
Melvin Udall is an obsessive-compulsive romance fiction writer who is nasty to everyone he encounters, even his homosexual neighbour Simon. Still, he softens when he has to look after Simon's dog.
Even if he isn't free of his issues, he discovers that he can have a relationship with the sole waitress at the neighbourhood diner who will serve him.
13. Austin Powers: International Man of Mystery
Cryogenically preserved secret agent Austin Powers is resurrected in the current day in this spoof of 1960s espionage flicks. Powers' language, dress taste, and attitude toward women were once associated with style, but he quickly realises that they are hopelessly out of date.
To assist him in acclimatising to the 1990s and defeat his old foe, Dr Evil, he enlists the help of a distinctly modern woman.
14. The Cat in the Hat
While their mother is gone, a mischievous Cat in the Hat appears in the house of bored little Sally Walden and her brother, Conrad. The Cat's presence irritates the family's pet fish.
Despite the fish's protests, the hat-wearing big feline continues to have a good time, no matter how much devastation he leaves in his wake.
15. Charlie's Angels
Elena Houghlin is a scientist, engineer, and Calisto creator, a renewable energy source that will change the way people use electricity. Elena seeks assistance from the Townsend Agency when cutting-edge technology falls into the wrong hands.
Now it's up to Jane, Sabina, and Elena, the freshly recruited Angels, to save Calisto before it's turned into a weapon of global devastation.
16. Chitty Chitty Bang Bang
Young siblings Jeremy and Jemima encounter the lovely Truly Scrumptious while truant from school, and she falls for their widowed father, Caractacus Potts, and his numerous eccentric creations, notably the family's loud restored vehicle, Chitty Chitty Bang Bang.
Caractacus tells Truly and the children a colourful storey about the wicked Baron Bomburst and his evil plans for the Potts family vehicle one day at the beach.
17. The Croods
The Croods, a prehistoric family, live at a challenging period of history. By day, Grug, Ugga, Eep, son Thunk, and Gran gather food, and by night, they snuggle together in a cave.
Grug is sceptical when a more advanced caveman (Guy) appears in their life, but it quickly becomes apparent that Guy is accurate about their world's imminent demolition.
18. Dumplin
The plus-size adolescent daughter of a former beauty queen enters her mother's pageant as a protest. Still, the pageant and their tiny Texas town are revolutionised as more candidates follow in her footsteps.
As Dumplin is available only on Australian Netflix, you can connect to the Australian server of a premium VPN service such as ExpressVPN, NordVPN, Surfshark, PureVPN, and CyberGhost to enjoy it from anywhere.
19. Failure to Launch
Tripp, a 35-year-old professional slacker, is content to stay at home and be pampered by his mother, Sue. She and her husband Al, on the other hand, have had enough and plan to employ deception to persuade him to leave.
As a result, they engage Paula, who will use her feminine charms to get him out of the house. The thrill, fun, laughter, and a will to succeed make it one of the best comedy movies on Netflix.
20. The Fundamentals of Caring
After a personal tragedy, a writer retires and becomes the caretaker for a disabled kid. When the two go on an unplanned road trip, their capacity to cope is put to the test as they learn the value of hope and friendship.
Deviating from the lame concepts incorporated in most comedies, this one will give you the message of love, hope, and caring for others.
21. The Grinch
Inside a cave on Mount Crumpet, The Grinch and his faithful dog, Max, live a lonesome existence. His most prominent cause of annoyance is around Christmastime when his Whoville neighbours go all out for the holidays.
When the Whos decide to make Christmas even more extensive and brighter, the grinch realises there's only one way to have some peace. With the aid of Max, the green grump devises a plan to impersonate Santa Claus, steal Christmas, and put an end to the Whos' festive happiness for good.
22. Incredibles 2
Winston Deavor, a telecommunications whiz, enlists Elastigirl to battle crime and rekindle widespread interest in superheroes. Mr. Incredible is now faced with one of his most difficult tasks: remaining at home and caring for three rowdy youngsters.
A cybercriminal dubbed Screenslaver starts his wicked plot, hypnotising the world through computer displays, as Violet, Dash, and Jack-Jack give him new problems.
23. Monster-in-Law
When Charlotte meets Dr. Kevin Fields, she is smitten. So when Kevin proposes to Charlotte after they've been dating for a while, Charlotte gladly agrees. But she quickly learns that Kevin's mother, Viola, isn't delighted about the prospect of a new family member.
Viola, a newscaster who has recently lost her job and has become connected to Kevin, sees Charlotte as a new competitor and would reportedly go to any length to get her son to call off the wedding.
24. Saving Mr. Banks
Walt Disney starts on a 20-year search to get the movie rights to "Mary Poppins," spurred on by a promise he made to his kids. P.L. Travers, the author, shows to be a staunch sceptic who refuses to allow her cherished characters to be twisted by the Hollywood machine.
When the books stop selling, and Travers is in desperate need of cash, she grudgingly agrees to accept Disney's offer.
25. Spy Kids
Two young children become spies to save their ex-spies parents from an evil mastermind. Carmen and Juni are trying to save their parents and the planet with a bag of high-tech devices and out-of-this-world transportation.
Closing
If you live in Canada or anywhere other than Australia, we are sorry to inform you that these movies are only available on Australian Netflix. There is no need to worry, though; with our guide to change Netflix region; you can enjoy all the recommended hits.
All you need now is your friend or family's company, a bucket full of popcorns (preferably large), and an unlimited supply of drinks!